Air Force Junior ROTC

Description
This MVCTC program is unique and one-of-a-kind. While officially titled Air Force Junior ROTC, in reality it is an aviation careers course. Students are taught the complete Junior ROTC program; and since we are in a career technical lab setting, we can do so much more in a normal school day. In conjunction with the Federal Aviation Administration (FAA) aircraft maintenance course, we provide an educational experience unlike any other in the United States.
This program also offers students the opportunity to earn "Flex Credits," which means a portion of the AFROTC curriculum can be counted as Social Studies 3 credit in addition to their AFROTC credit.
Because we are in a career technical lab setting, we are able to complete four years of ROTC in two years. Additionally, we teach and give hands-on experience in technical areas such as flex borescoping, hydraulics and pneumatics, jet engine familiarization, fuel line servicing of aircraft, electronics, electricity, welding, soldering, corrosion control, aircraft marshaling, composites, and much more.
Although not required, students who desire to enter the military do so at higher ranks and responsibility. They are better prepared to compete for college scholarships and are certified in aviation specialties that give them an advantage over others when seeking careers in civilian aviation occupations.
In addition to standard course requirements, students participate in a variety of fun and worthwhile extracurricular activities such as community service work at the veterans administration nursing home, fund raising activities, color guard and parade formations, and field trips to three locations.
College Connections
Industry Standard Certificates
State Report Card Data Based on the most recent Ohio State Report Card Data for this MVCTC Career Technical Program
100% of students were working, in college, or the military one-year after completing this program
Testimonials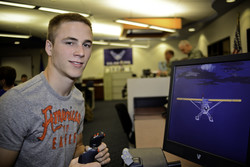 "" The Air Force JROTC program is benefiting me immensely. It is really preparing me to understand the whole military realm of thinking and procedures. This program has taught and continues to teach me discipline, pride, and is helping to refine my leadership traits.""

Austin Johnson
Tri-County North
Air Force ROTC Class of 2015
Program Fees
2016 Graduate

| | Junior Program Fees | Senior Program Fees |
| --- | --- | --- |
| Program Fees | $50.00 | $50.00 |
| Workbooks | $0.00 | $0.00 |
| Uniforms | $25.00 | $0.00 |
| Toolkit | $0.00 | $0.00 |
| Total Cost of Program | $75.00 | $50.00 |
2015 Graduate

| | Junior Program Fees | Senior Program Fees |
| --- | --- | --- |
| Program Fees | $50.00 | $50.00 |
| Workbooks | $17.00 | $0.00 |
| Uniforms | $25.00 | $0.00 |
| Toolkit | $0.00 | $0.00 |
| Total Cost of Program | $92.00 | $50.00 |
Additional Links