Health Careers Academy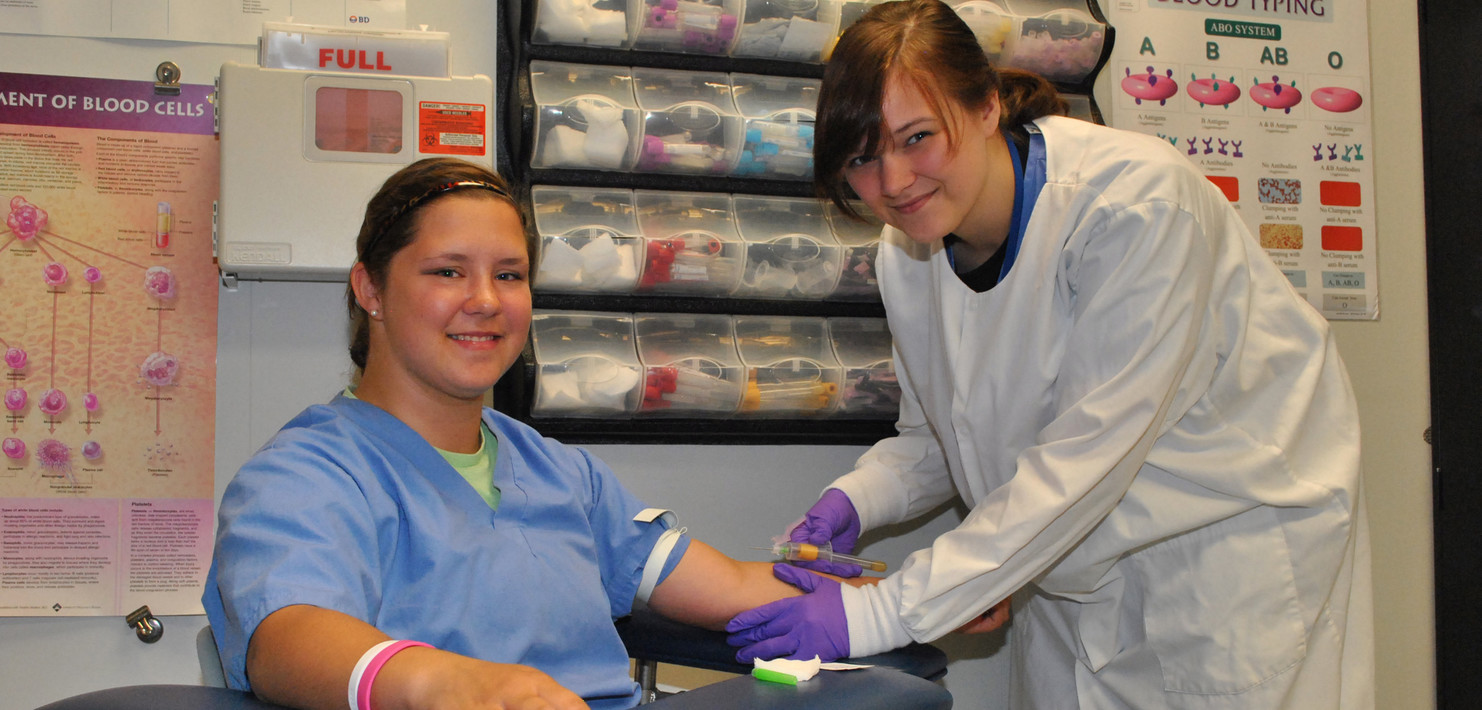 Description
Throughout the two-year program, students have the opportunity to gain knowledge and skills in many health related areas. Students gain knowledge in areas such as anatomy & physiology, medical terminology, medical math, legal and ethical issues, safety, body mechanics, human growth and development, and nutrition. During hands-on practice, students learn patient-care skills such as vital signs, administering medications, hearing and vision tests, performing EKG's, drawing blood, performing laboratory tests, personal care, and ambulating patients. The program operates in simulated work environments to develop a person's work ethics, professionalism, and employability skills.
After graduation, students may gain employment as a Nurse Aide in a long-term care facility, become a home health aide, a patient care technician, a phlebotomist, clinical laboratory assistant, or a medical assistant. Students may also choose to further their education at a community college or four-year university.
College Connections
Industry Standard Certificates
Phlebotomy
Fire Safety
STNA
First Aid
CPR
Bureau of Labor Statistics Data This shows the % of job growth expected in these careers through the year 2020. To learn more about these careers, click on the names below.
State Report Card Data Based on the most recent Ohio State Report Card Data for this MVCTC Career Technical Program
90% of students were working, in college, or the military one-year after completing this program
Program Fees
2016 Graduate

| | Junior Program Fees | Senior Program Fees |
| --- | --- | --- |
| Program Fees | $50.00 | $0.00 |
| Workbooks | $169.00 | $0.00 |
| Uniforms | $150.00 | $0.00 |
| Toolkit | $52.00 | $0.00 |
| Total Cost of Program | $421.00 | $0.00 |
2015 Graduate

| | Junior Program Fees | Senior Program Fees |
| --- | --- | --- |
| Program Fees | $50.00 | $0.00 |
| Workbooks | $119.00 | $0.00 |
| Uniforms | $141.00 | $0.00 |
| Toolkit | $0.00 | $0.00 |
| Total Cost of Program | $310.00 | $0.00 |