Robotics and Automation
Description
Students in the Robotics and Automation Program will lean about robots and robotic applications, robotic programming, automated material handling, robotic welding, computer numerical control (CNC), CNC plasma cutting, solid modeling, automated manufacturing work cells, data acquisition analysis, electrical controls, and battling robot design and competition (Xtreme Bots).
Students in this program may be eligible for a Tech Prep scholarship to Sinclair Community College if they meet all the requirements of the program. This could lead to a career as a Robot Operator, Robotic Technician, or Robot Installer. With additional training students may become a Robotic Engineer or Manufacturing Engineer.
The employment outlook for robot operators and robotic technicians is excellent. Robotic technicians can earn from $30,000 to $50,000 per year. Most workers in the robotic field are in industrial settings, but many new robotic applications are developed each year as automation technology advances. Robotic engineers who create new robots and new robotic applications can earn over $100,000 per year.
College Connections
Bureau of Labor Statistics Data This shows the % of job growth expected in these careers through the year 2020. To learn more about these careers, click on the names below.
Testimonials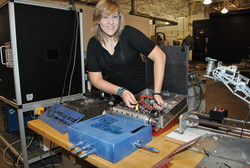 "" The Robotics and Automation program is helping prepare me, and my fellow classmates, for the future by providing us with the basic building blocks that are necessary in the field of robotics. Throughout the year, we have learned skills from 3-D computer modeling to how to accurately use a plasma cutter. I believe being taught a variety of different skills is what employers and colleges are looking for, and MVCTC is preparing me for this.""

Brook Artz
Bethel
Robotics and Automation Class of 2015
Program Fees
2016 Graduate

| | Junior Program Fees | Senior Program Fees |
| --- | --- | --- |
| Program Fees | $50.00 | $50.00 |
| Workbooks | $62.00 | $0.00 |
| Uniforms | $46.00 | $0.00 |
| Toolkit | $0.00 | $0.00 |
| Total Cost of Program | $158.00 | $50.00 |
2015 Graduate

| | Junior Program Fees | Senior Program Fees |
| --- | --- | --- |
| Program Fees | $50.00 | $50.00 |
| Workbooks | $22.00 | $0.00 |
| Uniforms | $51.00 | $0.00 |
| Toolkit | $0.00 | $0.00 |
| Total Cost of Program | $123.00 | $50.00 |