Veterinary Science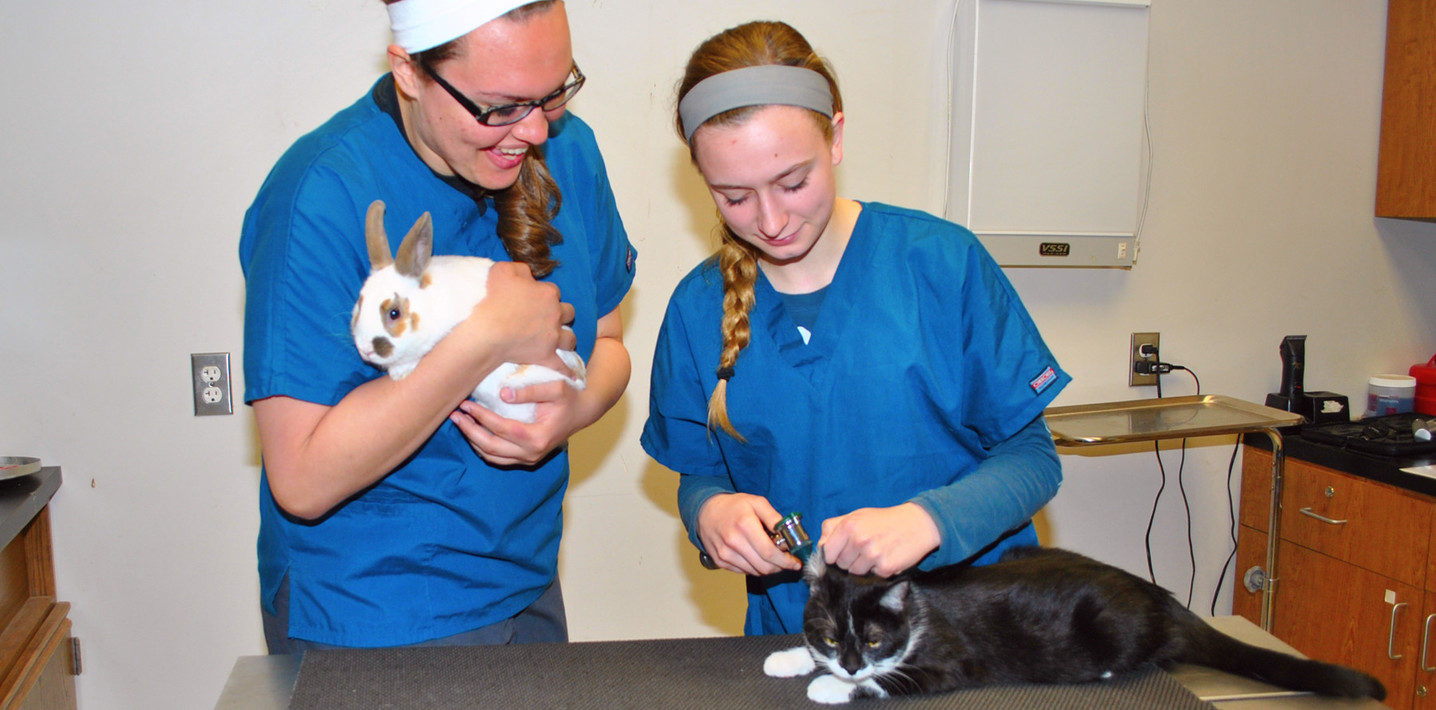 Description
The Veterinary Science program utilizes intensive science and math skills to prepare students to seek employment in the field of veterinary medicine. There is a thorough review of animal behavior, handling, husbandry, medicine, and surgery related to both large and small animals including numerous hands-on demonstrations. A comprehensive review of all major body systems is conducted to allow students to apply this knowledge when performing physical examinations and the diagnosis and probable treatment of common diseases and injuries. Students will prepare for careers as veterinary assistants/aides or continue their education to become veterinary technicians or Doctors of Veterinary Medicine (DVM).
Veterinary Science students will conduct individual or group research to prepare and present numerous demonstrations on assigned topics in the field of study. Laboratory techniques involving areas such as parasitology, hematology, microbiology, cytology, urinalysis, and animal restraint will be learned. Many various species of animals will be available and utilized for demonstration purposes by students. Current information from veterinary journals, textbooks, and web sites are incorporated in the curriculum. An in-depth senior research project related to veterinary medicine will be presented by each student. This project will assimilate their skills and knowledge in the field of veterinary medicine.
Students who complete the Veterinary Science program will be equipped to work in local veterinary hospitals/clinics as a veterinary assistant/aide. Those students who desire to further advance in veterinary medicine will pursue college level training to become veterinary technicians or after many years of college course work, future Doctors of Veterinary Medicine.
College Connections
Bureau of Labor Statistics Data This shows the % of job growth expected in these careers through the year 2020. To learn more about these careers, click on the names below.
Program Fees
2016 Graduate

| | Junior Program Fees | Senior Program Fees |
| --- | --- | --- |
| Program Fees | $50.00 | $50.00 |
| Workbooks | $0.00 | $0.00 |
| Uniforms | $86.00 | $86.00 |
| Toolkit | $0.00 | $0.00 |
| Total Cost of Program | $136.00 | $136.00 |
2015 Graduate

| | Junior Program Fees | Senior Program Fees |
| --- | --- | --- |
| Program Fees | $50.00 | $50.00 |
| Workbooks | $0.00 | $0.00 |
| Uniforms | $60.00 | $60.00 |
| Toolkit | $0.00 | $0.00 |
| Total Cost of Program | $110.00 | $110.00 |