Cintas Visits St. John's!
04/12/2019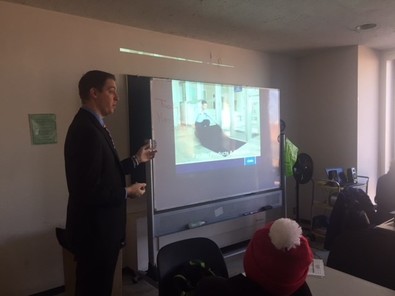 On Tuesday, March 19, 2019, Adam Kasten, an HR Manager at Cintas, came to visit St. John's ESOL school to discuss employment opportunities at his company. Adam shared a brief history of Cintas, the work environment, and culture that "partners" (the term they use instead of employees) could expect if they were hired. He then described the jobs that our students may be the most interested in applying for, Mat Roller, Folder/Garment Inspector, Unloader/Loader, and Driver. Adam shared the wage, incentive program, shifts, and typical duties of the job. As a result of his presentation, many of our students asked for fliers at the end of his presentation and are interested in applying.
If you are an employer and would like to come to any of the Aspire ESOL or HSE sites to discuss opportunities at your company, please contact Lindsay Tate at ltate@mvctc.com. Aspire is always open to new and original ideas to help companies recruit new employees and help students obtain employment!