MVCTC Practical Nurses Graduate
06/10/2019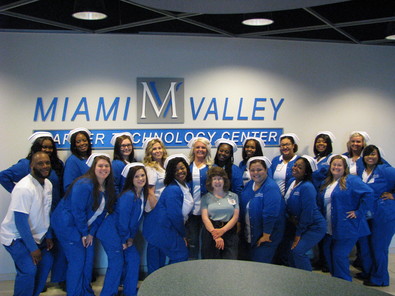 Friends and families of MVCTC's June 2019 Practical Nursing Class celebrated the accomplishments of the students who began their journey one year ago.  Employment opportunites and advancement to the next level of education are positive for these grads upon passage of their Practical Nursing License.
Talia Watson was recognized for the highest GPA,  Elizabeth Hughes achieved the highest score on the predictive licensure test and Bekka Haines was presented with the faculty award for overall classroom and clinical competencies. 
Under a newly signed agreement, MVCTC LPNs who meet admission requirements have the opportunity to pursue their BSN with Wright State University in an accelerated 5 semester program.  In addition to working as an LPN, over 50% of graduates pursue their RN or BSN at various post secondary institutions.
MVCTC's next PN Program begins in July.  The July Program is three days per week for 20 months and is well suited for students who need to continue working.  The next 12 month Program begins in November.  For information, call 937-854-6297 or visit on of our monthly Information Sessions.  Our next session is June 13th at 6 pm in the Adult Education Building.