Wright State and MVCTC sign agreement on LPN to BSN pathway
06/26/2019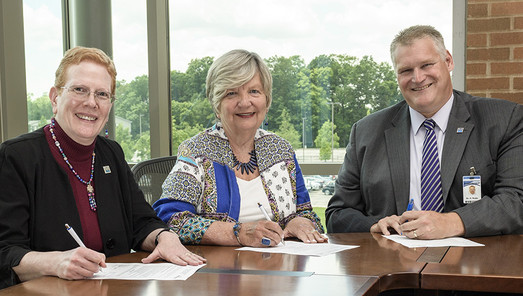 On June 25, 2019, Dr. Nick Weldy, MVCTC Superintendent, Dr Deborah Ulrich, WSU Dean of Nursing and Health and Lynn Beaver, MVCTC Director of Nursing met at Wright State University to sign an MOU for a pathway from the MVCTC Licensed Practical Nursing Program to a Bachelor's of Science in Nursing.  
MVCTC graduates who meet admission requirements and complete prerequisite courses will be eligible to enter the BSN Program at Wright State in the fall of 2020.  Please see the MVCTC website for details or attend one of the upcoming advising sessions at MVCTC with both WSU and MVCTC advisors.  Information is also available on the WSU website under Alternative Licensure for Nursing.
Call 937-854-6297 to register for the upcoming sessions.  Registrants will be notified by email of the future date  for scheduled sessions.  Upon admission, the Program will be 5 continuous semesters.  Students will graduate with a Bachelor's in Nursing in spring 2021. The demand for qualified LPNs and BSNs is expected to increase through 2026. The MVCTC LPN to BSN pathway offers students a cost savings in addition to the opprotunity to work while balancing school, family and work.