MVCTC Aspire News - Preparing Today's Workforce
07/29/2019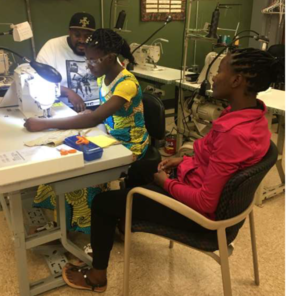 Meeting the challenges of preparing today's workforce is forefront in the minds of Aspire's instructors. To help meet this challenge, MVCTC's Aspire and English for Speakers of Other Language (ESOL) Program offers free workforce preparation and adult readiness instruction that will serve 2,500 students this coming year. This program also offers free high school diploma preparation and ESOL classes at close to 25 sites around Montgomery, Greene, and Preble Counties.

Aspire has much to offer to meet the needs of Dayton's foreign and native-born population. Aspire's career classes are designed around a specific industry with in-demand jobs in the Dayton region. These industries include: Environmental Services, Industrial Sewing, Culinary Arts, Construction, Hospitality, and Healthcare. Below is some information on several of these career classes.

INDUSTRIAL SEWING
Since there are three industrial sewing factories in the Dayton area, one of ESOL workforce preparation classes at Aspire's St. John's ESOL Program focuses on the skills needed to get a job in one of these factories. Students in these classes focus on sewing vocabulary, measurement, following commands and directions, soft/employability skills, and many more job-related topics. After students have been in this class for a few weeks, they begin to get hands-on training at Dayton Sewing Collaborative/Dayton Train to Sew. Since this partnership began last spring, two sessions have finished and helped several students get the sewing skills they need to get jobs.
CULINARY ARTS
For those interested in the culinary arts, native English speakers and ESOLs can take an eight-week culinary supervisor class to learn the skills needed to work in the food service industry. Along with instruction in the Montgomery County Job Center Kitchen classroom by an experienced chef, students also receive hands-on training and internship experience at One Bistro in Xenia, and in the restaurant kitchen at the UD Marriott. When students complete this class and pass the ServSafe exam, they have over 200 hours of instruction and a very valuable food safety certificate.
HOSPITALITY
For students interested in the hospitality industry, Aspire offers an eight-week hospitality class which includes an internship also in partnership with UD Marriott. In this course, students get a firsthand view of what it's like to work in various areas of a hotel.
CONSTRUCTION
Aspire's newest career class will take place on MVCTC's main campus on Hoke Road in Clayton. This class will focus on the basics skills needed to work and succeed in the construction industry. It begins on August 26, on Tuesdays, Wednesdays, and Thursday from 5:30 pm – 8:30 pm.
The task of workforce training and preparation is, indeed, a big challenge that Aspire instructors have taken on to help the program's students. With hard work and perseverance in Aspire classrooms, students will be ready to get the jobs they want and need.

If you know of anybody who might be interested in joining these classes, please contact Karen at keckardt@mvctc.com.