ESOL students from St. John's Level 3 Class took a field trip to the Dayton Art Institute
09/24/2019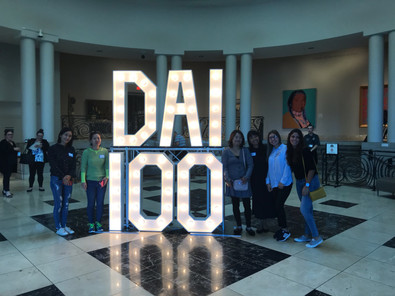 ESOL students from St. John's Level 3 Class took a field trip to the Dayton Art Institute.  Becky Davis, the level 3 Wednesday volunteer, organized the trip to give her students an experience of what Dayton has to offer. Becky reached out to RTA who so graciously provided free transportation to and from DAI for all students through the Ride to Art Fueling Education Program.
The outing was a great way to expose students to the community resource as well as practice their language skills.  When students arrived, two museum guides gave tours showing the different styles of art.  Students got to experience numerous art galleries with paintings and sculptures representing a variety of cultures.  The class loved being able to experience the beauty of art in the city they now call home.
When they returned to class the following day, they wrote thank you notes for the rich memory they gained all because of the graciousness of the Dayton Art Institute, RTA, and their teacher Becky.
The trip was well received by students and is hopefully the first of many field trip experiences for students in the future at St. John's!