MVCTC Aspire Students Create Life Maps or Dream Boards
11/15/2019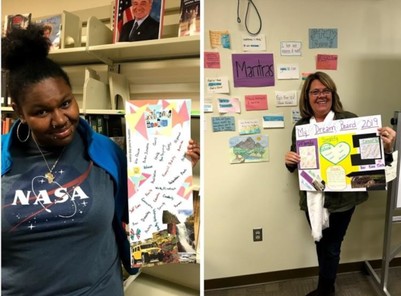 "We have been working on our "Life Maps or Dream Boards". It is very important to make your dreams become reality by writing, visualizing, and planning to accomplish your life goals! Creating a map for life, including steps to make progress, is critical to goal completion! My students love to talk about their futures while at the same time taking steps to making their futures their reality."
—from Lori Porter Aspire Instructor CSU-D
This collage features Kynadee Commodore and Lori Porter. Kynadee has her diploma, she is reviewing her math skills to take the placement test at Sinclair Community College. She seeks to obtain her Associates Degree in the Allied Health field. Kynadee named her board, "Manifest Destiny" very powerful! She is a very positive influence in our CSU-D Aspire class!