Adult Education Students Tour Caterpillar Operations Facility in Clayton
11/18/2019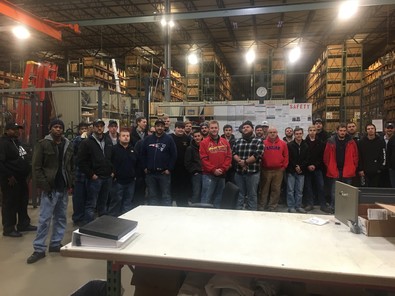 Clayton, Ohio -- On Wednesday November 13, 2019, all Miami Valley Career Technology Center (MVCTC) Adult Education Electrical & HVAC students toured Caterpillar Operations located at 6611 Hoke Road Clayton. They learned from Russ Miller & Stephen Beasley about sustainability and the high-performance standards for environment, health and safety and operations at the facility.
During the tour students learned a variety of requirements when it comes to the day to day operations of over 1.3 million square feet of space involving not only Electrical and HVAC-R system requirements but all requirements from a maintenance aspect:
Load Data
Load Calculation
Load Analysis
Individual Loads
Emergency Loads
Area Loads
High Output Activity Loads
Power Sources
Efficient Furnaces and Air Conditioners
HVAC Controls
Radiant Heaters
Air Destratification
Natural Ventilation
Heat Recovery
Cool Roof Technologies
The tour was a huge success as students were able to ask many questions and were able to connect curriculum to real-world applications.  They also were able to see how Caterpillar promotes the health and safety of its people with policies and proactive programs that help individuals stay safe, personally and professionally as well as see how companies develop products, manufacturing processes, and training programs to minimize safety risks.
The next MVCTC Adult Education Electrician and HVAC-R programs will begin on April 7, 2020. Visit www.mvctc.com/ae or call 937-854-6297 to enroll now!