Jacquie Addis, MVCTC Adult Education Student Success Story
12/18/2020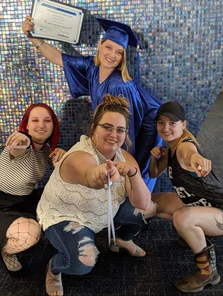 My name is Jacquie, and I am 47 years old. I am the proud mother of three amazing daughters, Samantha, Shi-Anne, and Charlie, who all graduated from MVCTC high school, all with certifications in different careers. Because of their encouragement, I am proud to say that I was able to finish High school finally, in 2018! 
Thanks to the Aspire program offered by MVCTC's Adult Education department, I started taking classes to earn an accredited High School Diploma and earn certification as a certified Phlebotomist.
Upon graduating, I was awarded a scholarship that allowed me to go a little further and enroll in yet one more program. As there was a wide array to choose from, I focused on what I felt to be the best possible place for me to be. I love helping people, and I have always been interested in the medical field, so I excitedly chose Eye Care/ Ophthalmic assistant.
 I am proud to say that I have recently completed the program and am now working in the field. Through our clinical rotation, I was fortunate enough to be offered a position at Doctor's office as soon as I finished the program. 
I remember the first day of my classes, back at the beginning of my journey, I was given a lot of paperwork to fill out, one of the questions was something along the line of "What is your goal?"
I believe my answer was. "To work hard and become someone my daughters could be proud of."
My children are grown and working towards their future goals, and I am happily employed in a field I love.
It just shows you that no matter where you start in life, and no matter how old you are, you can always improve the outcome if you only set your mind to it and work hard to earn what you want in life. Hard work really does pay off.
 It also helps a lot when you have a good support system, and thankfully I have that at home. The wonderful instructors and staff at MVCTC are always available and helpful. I always feel welcomed and encouraged and accepted, kind of like my own personal cheerleaders helping me make all the goals I have for myself!
Thank you to everyone who has had any part in my journey. I could not be where I am today without each and every one of you!