MVCTC Adult Education Graduates Practical Nursing Students
09/08/2021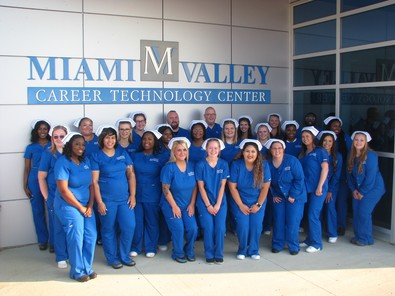 Englewood, Ohio – The Miami Valley Career Technology Center (MVCT) Adult Education Practical Nursing Program celebrates the graduation of 27 Practical Nursing students.
The graduates completing the program were:
Brittney Ashley
Sarrah Ashour
Katherine Bell
Arianna Caixba
Breanna Carr
Sheila Crossley
Erikka Dalton
Montanae Davis
Kasie Durham
Hannah Eustache
Shelby Frech
Jessica Griffith
Rodneeca Hardin
Brittany Harrison
Abigail Harshman
La'Tasia Holt
Karlyn Ivy
Kimberly Long
Chelsea Lyles
Ella Mays
Kelli Miles
Cole Morrie
Jason Poe
Maicie Snyder
Hannah Testerman
Lamar Thompson
Brittany Yosick
Dedicated to providing premier educational choices and advanced employment preparation for youth, adults, and organizations, MVCTC has proudly served the Miami Valley since 1971.
For more information about MVCTC Adult Education programs, please visit www.mvctc.com/AE.
# # #