Adult Education Healthcare Program Pathway
04/12/2022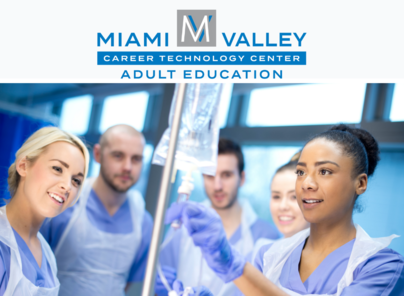 Ready to start your career in healthcare? Start here at MVCTC Adult Education.
Nurse Aide (STNA) Training Program - Complete the classes and earn your Ohio STNA license in just two weeks! Learn more at STNA Classes.
Practical Nursing Program - Become a Licensed Practical Nurse (LPN). An LPN is a vital member of the healthcare team that cares for ill, injured, or convalescing patients or persons with disabilities in hospitals, nursing homes, clinics, private homes, group homes, and similar institutions. After completing the program, graduates meet training qualifications to be eligible for the National Council Licensure Examination (NCLEX-LPN). Learn more at PN Program.
Registered Nurse Diploma Program - This 50-week program consisting of classroom, theory, laboratory, and clinical experience prepares the LPN to build upon current skills to complete the education requirements needed for a successful transition as a Registered Nurse. Upon completing the program, students are eligible to sit for the National Council Licensure Examination for Registered Nurses(NCLEX-RN). Learn more at RN Diploma Program.