Precision Machining
11/14/2016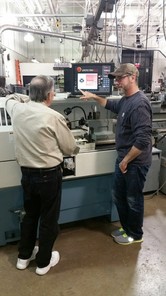 Adult Education Precision Machining Instructor, Jack Koeller has seen the highs and lows of the Precision Machining in the Dayton area manufacturing industry. With 30 years previous experience at Delphi (GM) and an instructor at MVCTC since April of 1982, Jack provides today's students with the knowledge to be successful in the current workplace. Jack came to MVCTC because his Dad knew Dallas Montgomery, another MVCTC employee. Jack appreciates teaching and believes "he was in the right place at the right time" when he learned of the opportunity to instruct for MVCTC.
Jack is married with four adult children. He enjoys building cars as a hobby. Jack's favorite memories of MVCTC are focused on the people he has and still works with including students and staff. Jack is proud to see that MVCTC continues to be a great and growing place.
Student Story from Precision Machining
     Greg Mosley is enrolled in the Precision Machining Program and expects to graduate in March '17. Greg is employed by the Dupps Company as a Drill Press Operator. When asked about a memorable moment at MVCTC, Greg responded that he was excited about completing the grinding vise project, "It was amazing to think that I created that!" Greg stated his experience has been fantastic at MVCTC. He states that the instructors are extremely knowledgeable and make the learning process fun.
     This is Greg's second experience as an MVCTC student. He completed the Practical Nursing Program in 2010 and worked previously part time as an LPN at Miami Valley Hospital. Referring to his current training in Precision Machining Greg states, "MVCTC secures a career for me in a field that is very rewarding. This program is designed for working with adults. Any other institutions were not an option for me."
Based on information from April of 2015, Ohio ranks fourth nationally in employment of machinists with a mean wage of $19.95.