MVCTC Aspire Student Highlight - Danielle Norris
02/07/2019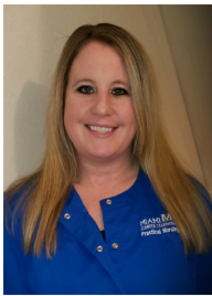 ASPIRE classes are not only for students looking to gain a high school equivalent certificate; they can also be useful to those wanting to further their education post-high school such as student Danielle Norris, who joined in hopes to master a 5 on her WorkKeys test. Danielle, like many others, decided later in life that she wanted to return to school in order to fulfill her dreams. WorkKeys assessment is the test that you need to take in order to get into a program of your choice through MVCTC, as well as other post-secondary schools in the area. Many programs require a 5 or higher in the skill areas in order to be accepted and begin classes. Danielle, similar to other adult learners, had been out of school for two decades and needed some refreshers in order to meet these WorkKeys requirements.
Danielle Norris graduated from Dixie High School in 1997 but has lived in Preble County during most of her adult life. In high school, she had dreams of becoming a Psychologist when she grew up, but life had different plans for her. Danielle had three children right after high school. During this time, she became an STNA in order to take care of her family. After this, her career interests changed toward nursing and patient care. Danielle has since worked for Miami Valley Hospital in patient care in Labor and Delivery, Lifecare Hospitals of Dayton, Homecare for Blackstone, and most recently Hospice of Dayton. Danielle also had two other children during this time and has taken time off in order to take care of them.
Danielle decided last summer that she was ready to move forward with her dreams, and she was determined to return to school to pursue a Nursing degree. Danielle just needed a little boost from ASPIRE in order to pass her WorkKeys math so that she could begin classes. Danielle attended the ASPIRE program regularly for six weeks. She reported that during this time she learned what she had not retained in high school. She felt that having the one-on-one learning environment is what assisted her in gaining the test scores that she needed to move forward with her education and career.
Danielle is currently enrolled in the LPN 20 month program through MVCTC, and she has a 94% A overall! She is much more confident in her ability to achieve because of what she has seen herself accomplish in a short amount of time. Danielle hopes to become an LPN by passing the state test and then move forward by going into an RN program while working as a crisis care LPN. She hopes to end her working career by being back into Labor and Delivery as a nurse or working in the NICU with babies.
When asked what Danielle would say to other adults considering joining the ASPIRE program, she said "I would tell them to go for it. I thought I was too old to go back, and that I could not do it, but I have proven myself I can and I am. It's been a lot of hard work so far and I study a lot but I know it's going to be worth it. And if they have been out of school a long time like I had, the classes will help refresh them and I recommend MVCTC."