MVCTC Adult Education ESL Student Starts Accounting Career in America
02/07/2019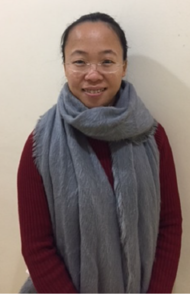 Ziyun Wang, a St. John's ESL student in level 4/5 who is originally from China, recently obtained a position as an Accounts Receivable Accountant at Fuyao. Ziyun (sometimes called Cherin), has a bachelor's degree in Accounting from China and over 15 years of experience working in accounts receivable and payable and even worked as a supervisor. She has been on the job search for about three months. Although at times it was frustrating (as job searches can be), she persisted, applying for jobs online and signing up with staffing agencies. She had applied to Fuyao for this same position back in July but never heard from them.
In early December I saw that the position was posted again and mentioned it to Cherin. She told me, "I applied for it months ago and never heard anything," to which I replied, "You should call them." Cherin called them, and they immediately set up an interview for her. The day after she interviewed they called to offer her the job! Cherin is so excited to start her professional career in America and sent this email:
"I would like to express my gratitude to you and all my teachers at St.John-MVCTC including Eric, Bruce, Ann, Nathan, Brice, and other volunteers, faculty, and employees. I want to share with you that I got a job offer from a local company as an Accounts Receivable Accountant.
St. John has been like a second home for me after I immigrated to America. I began studying English at St.John in July 2017 and attending GED class since October 2017. I have learned a lot ever since then, and I believe that these experiences here have facilitated my success in landing my first job offer in America.
As a career coach, you have provided me with many online and offline sources for job opportunities. You gave me guidance and advice on job hunting, provided me with all the necessary documents, and helped me to improve my resume.
In my classes, you and all of my other teachers, not only taught me knowledge but also demonstrated your professional skills. These skills and knowledge were things I did not have an opportunity to learn when I was in China. You helped me to build up my vocabulary and to better my understanding of grammar and tenses. You have demonstrated to me academic presentation skills and public speaking with all your best patience and kindness. You are teaching us by heart. I appreciate all the effects you have made.
I wish you all the best and a prosperous future. I will miss you all and try to be home periodically."
Congratulations Cherin! We are so proud of you and your achievements and wish you much luck in your career!