Sports Management & Marketing Alumnus, Jess North, Student Manager for Ohio University
03/14/2022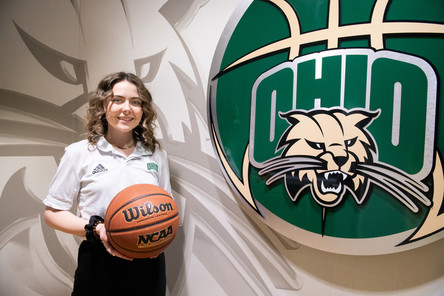 Student manager Jess North works behind the scenes to help Ohio Men's Basketball 
Published: March 8, 2022
https://www.ohio.edu/news/2022/03/student-manager-jess-north-works-behind-scenes-help-ohio-mens-basketball
For the Ohio University men's basketball team, there are a lot of people who work behind the scenes to help prepare for every game: coaches, athletic trainers, equipment personnel, graduate assistants, student managers and more.
Student managers have the unique opportunity to gain experience in the sports industry while being an undergraduate student. Jess North, a senior from Lewisburg, Ohio, is one of them.
North has been a student manager for the men's basketball team since her first year at OHIO in 2018. She is the longest-serving student manager currently on the team.
"I love it. It's what I look forward to most every day," North said.
 
Jess North converses with a fellow student manager before the OHIO men's basketball Feb. 25 game against Akron. Photo credit: Eli Burris/Ohio University
North, who majors in sports management and business analytics with a minor in coaching education and a certificate in women's studies, is the only female student manager on the men's team. She's also the only female student manager the team has had for the past two head coaches.
While she is often the only female on the court, she says she is used to working in that environment. North has been a basketball student manager since she was in eighth grade, after her teacher asked if she'd be interested in managing for the seventh-grade boys' team.
"I then managed throughout high school, and as soon as I came here, I knew I wanted to do this," North said. "Being a part of the team has meant everything to me."
North helps make sure everything is set and ready for the OHIO men's basketball practices and games, often arriving early and leaving late. Whether it's getting water for the players, cleaning up, or running an errand, North makes sure everything is where it is supposed to be. She also runs the shot clock during each practice and helps with rebounding for players.
 
Jess North running the shot clock during a practice. Photo credit: Eli Burris/Ohio University
"The environment is so inclusive and amazing," North said of the team. "You're helping the guys get better, but you're also having a great time while doing it."
North is appreciative of her time with the men's basketball team and is thankful for the connections she's built with the coaching staff as well.
"I talk to [the coaches] every day. They're always like, 'Hello, how are you?' They want to engage with you, want to see how you're doing," North said. "They really make you feel included and part of the team."
 
Head coach Jeff Boals and student manager Jess North talking during practice. Photo credit: Eli Burris/Ohio University
Off the court, North stays busy. In addition to working as a student manager, she works with OHIO Campus Recreation as a supervisor in the Charles J. Ping Recreation Center and Bird Ice Arena. She is also active in several organizations on campus, including OHIO Women in Business, Coaching Education Club, Women in Sports, and We Are First, a group for first-generation students.
"OHIO Women in Business is an amazing group of women that are going to achieve so much and because of them, I will achieve great things also," North said. "It's great to have those connections within the industry and within Ohio University."
As a first-gen student, North always knew she wanted to go to college and get involved on campus. Not just for herself, but to be a positive role model.
"Stepping here freshman year and walking around campus, I would think, 'This is so surreal, I can't believe I'm here.' This is what I always wanted, and here I am," she said. "I have five little sisters and I've always wanted to be a great role model for them. I hope that they will follow in my footsteps."
While North may be the only female student manager for the team, she hopes she's not the last. She also encourages any female students who may be interested in working or learning more about the sports industry, that although it may be hard at times, to "please do it." 
"We need more women to change the industry," North said. "I want to change the industry, and I know other women can if they put their mind to it."