ASPIRE AND GOOD SHEPHERD MINISTRIES WORK TOGETHER
04/01/2021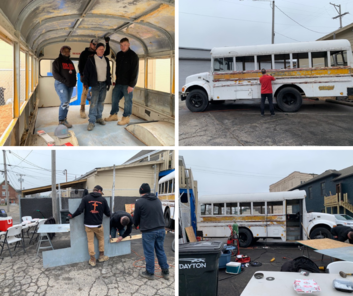 [DAYTON, OH] Miami Valley Career Technology Center's (MVCTC) Aspire program Construction Craft Fundamentals class is working on a unique project with Good Shepherd Ministries. The students are helping to transform a 25-foot, 1996 diesel bus into a "sober traveling bus." The idea for the project originated when Good Shepherd's Program Director, Shawn Trapp, met with a long-time supporter of his program who had a traveling camping bus. Trapp then met with Aspire's Program Director, Linda Bumiller, as a way to collaborate, along with other organizations, to make this project a hands-on learning project for students.
Trapp became the Program Director of Good Shepherd after being a client there himself. After recovering from an opiate addiction and being clean for almost six years, he now runs the day-to-day operations of the organization. The faith-based organization currently has 26 clients; 10 of which are working and 16 in the program. They have four recovery houses in Dayton and have a 68% success rate, which is three times higher than the national average.
MVCTC's Aspire program aims to teach students valuable lessons for the workplace through their free classes. In addition to the skilled trade they're learning while working on the soon-to-be traveling bus, several of the students will also receive their high school equivalency diploma when they finish the course. Completers of the 12-week class will earn credentials in CORE Construction from The National Center for Construction Education and Research (NCCER), First Aid and CPR, and Forklift Certification through Miami Industrial Trucks.      
The students are installing a kitchen, a grill, and a canopy on the bus. Frank Tomasello teaches the construction class and through the bus transformation, his students are learning how to use power tools such as metal grinders and chop saws, as well as construction safety, an introduction to reading blueprints, and basic rigging instruction. Tomasello's experience in construction began when he was 12 years old when his parents bought their first house to flip in Buffalo, New York. They went on to purchase several more and his father taught him every step of the way. He enjoys seeing what he can accomplish with his hands and loves to share his knowledge with the students. He says that the Construction Craft Fundamentals class "transforms footpaths into careerpaths."
In addition to the hands-on skills the students learn in the construction class, they also learn the soft-skills needed for employment. Aspire's Career Coach, Lindsay Tate, and instructor, Donna McMillan, have taught the students resume writing, effective workplace communication, and conflict resolution.  One of the students, Chanel, said that she's learned a lot in the class and after she receives her diploma, she hopes to start a business with her boyfriend.
Once the bus is complete, Good Shepherd plans to go around the city and share their client's recovery stories, feed the hungry, and hand out clothing to the needy. Many of their clients have never been out of Ohio, or even out of Dayton, so the bus will also be used for sober camping trips and community outings. Trapp says, "this bus project is a great collaboration with MVCTC's Aspire program. The recovering brothers at Good Shepherd will save thousands of lives and will be a game changer for our ministry!"
About MVCTC's Aspire program
MVCTC's Aspire program offers free workplace education and adult readiness classes at different locations around Montgomery, Greene, and Preble counties to individuals with or without a high school diploma. In-person classes as well as online classes are offered at times convenient to student's schedules.
Services that are available include foundational math, reading and writing skills; Adult Secondary Education/High School Equivalency preparation (GED/HiSET); transition services that help students develop essential skills for employment, college or trade school; life skills, employability skills, and computer literacy; workplace education services that are offered in collaboration with an employer to increase the productivity of the workforce; and, distance education classes that enhance learning using technology. English for Speakers of Other Languages (ESOL) classes are also available.
For a list of classes and in-person locations, please visit our website at http://www.mvctc.com/ae/programs/aspire. For more information or to ask questions, call (937) 854-6287 or email aspire@mvctc.com.
About Good Shepherd Ministries
Good Shepherd Ministries is a local non-profit ministry located in East Dayton. The doors opened to clients in January of 2001. They operate three recovery houses on Linden Avenue, and the Good Shepherd Thrift Store.
The recovery program is a one to two-month process where clients go to check-in groups, recovery coaching, and spiritual classes. To cover their program fees, the clients perform 20 hours of service work weekly at the recovery houses, Good Shepherd Thrift Store, the Life Enrichment Center, and at local churches.
Each client is provided with a clean and healthy living environment, good food, work therapy, leisure activities, group and individual coaching, spiritual direction, and resources to develop life skills and a personal relationship with God as provided by Jesus Christ. The physical and spiritual care that program participants receive prepares them to re-enter society and return to gainful employment.
For more information, please visit our website at https://thegsm.net/.