MVCTC Alumnus, Paula Schwab Wathen, Inducted Into MVCTC Hall of Fame
10/13/2021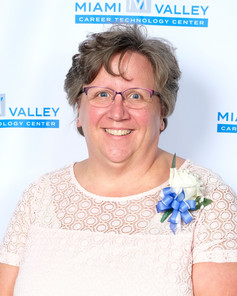 Paula Schwab Wathen was inducted into the Miami Valley Career Technology Center (MVCTC) Hall of Fame on Thursday, October 7, 2021, during the All Advisory Dinner. Paula, a 1982 graduate of Vandalia-Butler Schools, attended the Medical Lab Program at Montgomery County Joint Vocational School (MCJVS), now MVCTC.  She has been a Medical Lab Assisting Instructor at MVCTC since 2004.
Paula continued her education at Kettering College of  Medical Arts in Medical Technology and the University of Dayton, earning a bachelor's degree.
Her education and experience allowed her to become Laboratory Manager at the Kettering Health Network, where she worked for twenty years. Paula was responsible for numerous employees and expanding her knowledge of medical laboratory and people skills as a manager.
Paula obtained a master's degree in Career Technical  Education and the Teacher Leader Endorsement from Wright State University. Her career came full-circle when she returned to MVCTC in 2004 to teach.
Paula has had many successful students and earned the respect of many other teachers. Paula is devoted to educating her students and preparing them for real-world experiences. She continually encourages them to seek employment or volunteer opportunities in the community, especially in healthcare.
Paula was instrumental in bringing the HOSA: Future Health Professionals career technical student organization to  MVCTC and the whole state of Ohio.
Paula has been involved in Boy Scouts of America for nearly 30 years holding many positions at the local and regional level of the Miami Valley Council. Among those include many teaching opportunities to leaders and scouts to build strong, confident young men and women.
Paula is also involved in her church, helping in many ways, including teaching religion classes to young students.
Paula's MVCTC instructors were Carol Campshire and Faye Green. She was nominated for the MVCTC Hall of Fame by her husband, Dan Wathen.