MVCTC Alumnus, Lisa Perkins Werbrich, Inducted Into MVCTC Hall of Fame
10/13/2021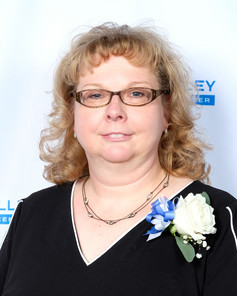 Lisa Perkins Werbrich was inducted into the Miami Valley Career Technology Center (MVCTC) Hall of Fame on Thursday, October 7, 2021, during the All Advisory Dinner. Lisa, a 1989 graduate of Twin Valley South Schools, attended the Legal Secretary Program at Montgomery County Joint Vocational School (MCJVS), now MVCTC.   She has spent the past 28 years as an English Teacher at MVCTC. 
Lisa earned her bachelor's degree in Secondary English Education with a Communication minor. Then attended the University of Dayton to earn a History Certification and master's degree in Education Administration.
Lisa returned to the then MCJVS to begin her teaching career, where she has spent the last 28 years. She embodies career technical education, and she has made it her life's work.
Lisa has been a vital asset here at the MVCTC, serving in a wide variety of roles. She has earned recognition as an Ohio Master Teacher and served as a Resident Educator Facilitator, Resident Educator Mentor, and RESA Assessor.
In addition, Lisa has given her time on many committees, including High School/Higher Ed Alignment Committee, Clinical Educator, Prom Committee Co-Chair, English Department Chair, Ohio Principal Standards Writing Team, Praxis III Assessor, and the Russian-American Exchange Program.
Lisa is the consummate professional and is regarded as a leader by colleagues and supervisors alike.
Lisa has also made significant contributions to the teaching profession by serving as a mentor teacher for student teachers/assessors for resident educators (student teachers), sitting on numerous committees, attending national conferences, collaborating internationally, and participating in professional organizations.
Here at the MVCTC, Lisa is beloved by students and colleagues alike. Her 28 years of service have been invaluable in advancing the district's mission.
Lisa's Career Technical Instructors at MCJVS were Michele Neville-Rees and Pamela Oldham. In addition, she was nominated for the MVCTC Hall of Fame by a co-worker, Tiffany Minton.