MVCTC Alumnus, Joseph Weaver, Inducted Into MVCTC Hall of Fame
10/13/2021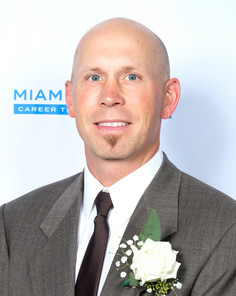 Joseph Weaver was inducted into the Miami Valley Career Technology Center (MVCTC) Hall of Fame on Thursday, October 7, 2021, during the All Advisory Dinner. Joe, a 2001 graduate of Franklin Monroe Schools, attended the Carpentry Program at MVCTC. 
Joe Weaver has gone from a student in the Carpentry Program at MVCTC to the Superintendent of a  construction crew working on the MVCTC Building Expansion Project.
Joe used knowledge gained at MVCTC to advance his career. Right out of high school, he worked as a carpenter, moved to a Project Supervisor with Ferguson Construction, Project Superintendent with Shook Construction, career technical education carpentry instructor at Upper Valley Career Center, and recently to a superintendent with Level MB Construction.
In his current position, Joe has the opportunity to give MVCTC students a chance to start their careers. He has hired several MVCTC students as part of the MVCTC School-to-Work Program.
A great way to describe Joe comes from his nomination, "Every step of the way Joe has looked for opportunities to engage and give back to others. While at Shook Construction, he was instrumental in creating a workforce development committee that pursued and educated the next generation of the workforce. From there, he has dedicated a years' worth of classroom time in continuing those same efforts while at Upper Valley Career Center. So when considering the project approach for the current MVCTC General Trades Contract for Level MB Construction, we knew that Joe was the guy. It is a perfect blend of construction, education, and investment opportunity in a growing young group of tradesmen and women. Since Joe has joined, he has ushered Level MB into a new relationship with MVCTC Construction Technologies. As a result, Level MB has employed up to 11 different students over the past year."
Joe's MVCTC instructors were Kelly Kramer and Pat Duffley. He was nominated for the MVCTC Hall of Fame by his instructor Kelly Kramer.