MVCTC Alumnus, Dr. Stephanie Beeching, Inducted Into MVCTC Hall of Fame
10/11/2021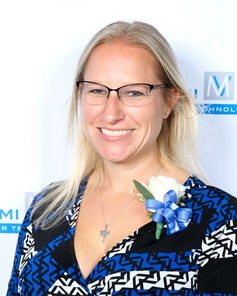 Englewood, Ohio – Dr. Stephanie Beeching, Certified Nurse Practitioner (CNP) at Suburban Family Practice in Huber Heights, was inducted into the Miami Valley Career Technology Center (MVCTC) Hall of Fame on Thursday, October 7, 2021, during the All Advisory Dinner. Stephanie, a 2003 graduate of Huber Heights Schools, attended the Allied Health Tech Prep program at MVCTC.
Stephanie began her career as a Patient Care Technician (PCT) at Good Samaritan Hospital after completing the nurse aide portion of her education at the Miami Valley Career Technology Center. She worked the night shift while still in high school, so she was present during the school day for any offered instruction. 
Stephanie continued working as a PCT while earning her associate's degree in nursing and becoming a Registered Nurse (RN) from Sinclair Community College. She remained at Good Samaritan Hospital in the RN role in Cardio-Pulmonary Care and then Mother/Baby care in the Birthing Center.
Stephanie earned her bachelor's in nursing from Indiana University East and her master's degree in Nursing from Frontier Nursing University. She most recently earned a doctorate of nursing from the University of Alabama-Tuscaloosa, the highest degree in nursing.
Stephanie has cared for thousands of patients in her career. Her current practice has over 5,000 patients. She is contributing to the education of future nurses by allowing them to precept with her, which is providing direct instruction to nursing students focused on basic skills and knowledge in the clinical setting. In addition, Stephanie is responsible for assisting over one hundred nursing students in achieving their educational goals. She truly is an excellent representative of career technical education and MVCTC.
The ten new MVCTC Hall of Fame members received a special crystal award presented to them by MVCTC Superintendent Dr. Nick Weldy and Director of Instruction Dr. Rhonda Phillips at a dinner meeting attended by over 350 program advisory members. MVCTC Hall of Fame members are inducted every five years. Dr. Nick Weldy, MVCTC Superintendent, stated, "We are proud to honor our returning alumni who have been so successful after leaving the Miami Valley Career Technology Center! Their former instructors provided a firm foundation to assist them in building careers that have blossomed. I appreciate that all of the inductees returned to campus to participate in the ceremony and show their dedication to our current mission of educating students to be career and college-ready. In addition, they serve as inspiring role models for our current students. I congratulate each of our inductees and wish them the best of luck in their quest for continued success."
For more information about the Miami Valley Career Technology Center, visit our website www.mvctc.com.
For 50-years, MVCTC has provided career technical education for 27 partner school districts encompassing five counties, including Darke, Miami, Montgomery, Preble, and Warren counties. MVCTC is dedicated to providing in-demand workforce training for youth, adults, and organizations in the Miami Valley. 
# # #