MVCTC Alumnus, Randall Besecker, Inducted Into MVCTC Hall of Fame
10/12/2021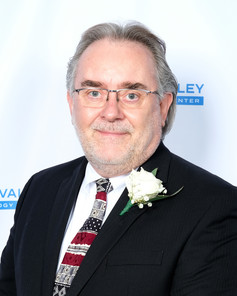 Englewood, Ohio – Randall Besecker, Advanced Senior Trader, Marathon Petroleum Company LP, was inducted into the Miami Valley Career Technology Center (MVCTC) Hall of Fame on Thursday, October 7, 2021, during the All Advisory Dinner. Randall, a 1976 graduate of Franklin Monroe Schools, attended the Farm Management program at the Montgomery County Joint Vocational School (MCJVS).
After high school, Randall continued his education at The Ohio State University, earning a Bachelor of Science degree in Agriculture, majoring in Agricultural Economics in 1980, and completed an MBA concentrating in Finance in 1982.
Over the past four decades, Randall's career has taken him from a Commodity Merchant Trainee with Cargill in West Des Moines, IA, to the largest Oil & Gas Company in the US with his current position as Advanced Senior Trader with Marathon Petroleum Company in Findlay, OH.
In between these bookends of his career, Randall has worked as VP of Consulting at Brock Associates in Milwaukee; as Export Merchandiser for Ferruzzi Trading USA in New York City; as Commodity Manager for Moorman Manufacturing Company in Quincy, IL; as VP of Grains at Frontier Risk Management in Chicago; and Director of Commodity Risk Management for Sara Lee Corporation in Holland, MI, and Cincinnati, OH.
Randall established his own commodity consulting firm in 2004 dedicated to the Biodiesel industry.
In 2011, he joined Felda IFFCO in Cincinnati as Head of Trading. Here, he was responsible for all facets of Palm Oil procurement and biodiesel commercial management.
In April 2014, with the buyout of Felda IFFCO's Cincinnati operations by Marathon, Randall was retained as Senior Trader overseeing all soybean oil feedstock procurement and co-product sales for the biodiesel production facility.
In 2016, Randall was transferred to Findlay and promoted to Advanced Senior Trader, managing all commercial activity for the Cincinnati operations.
Today, Randall also manages all feedstock procurement and commodity risk management for Marathon's Renewable Diesel production facilities in Dickinson, ND, and Martinez, CA.
Randall resides in Bluffton, OH, with his wife, Linda. Their daughter, Alexandra, attends Hofstra University in Hempstead, NY.
Randall's MCJVS instructors for Farm Management were Thomas Kreme and Ken Badertscher.  His father, Mr. Larry Besecker, nominated him for the MVCTC Hall of Fame.
The ten new MVCTC Hall of Fame members received a special crystal award presented to them by MVCTC Superintendent Dr. Nick Weldy and Director of Instruction Dr. Rhonda Phillips at a dinner meeting attended by over 350 program advisory members. MVCTC Hall of Fame members are inducted every five years. Dr. Nick Weldy, MVCTC Superintendent, stated, "We are proud to honor our returning alumni who have been so successful after leaving the Miami Valley Career Technology Center! Their former instructors provided a firm foundation to assist them in building careers that have blossomed. I appreciate that all of the inductees returned to campus to participate in the ceremony and show their dedication to our current mission of educating students to be career and college-ready. In addition, they serve as inspiring role models for our current students. I congratulate each of our inductees and wish them the best of luck in their quest for continued success."
For more information about the Miami Valley Career Technology Center, visit our website www.mvctc.com.
For 50-years, MVCTC has provided career technical education for 27 partner school districts encompassing five counties, including Darke, Miami, Montgomery, Preble, and Warren counties. MVCTC is dedicated to providing in-demand workforce training for youth, adults, and organizations in the Miami Valley. 
# # #