MVCTC Alumnus, Carl Bush, Inducted Into MVCTC Hall of Fame
10/13/2021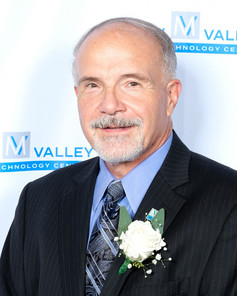 Carl Bush, Miami Valley Career Technology Center (MVCTC) Safety Coordinator, was inducted into the MVCTC Hall of Fame on Thursday, October 7, 2021, during the All Advisory Dinner. Carl, a 1976 graduate of Trotwood-Madison Schools, attended the Criminal Justice program at the Montgomery County Joint Vocational School (MCJVS).
Carl Bush has spent his entire career dedicated to public service as a peace officer in some capacity. After completing the Montgomery County Joint Vocational School Criminal Justice program, Carl attended Sinclair Community College, earning an associate's degree in Law Enforcement and then a bachelor's degree in Criminal Justice Administration from Park University. He is also a graduate of the Police Executive Leadership College and the Northwestern University School of Police Staff and Command.
Carl's career has taken him from a Ranger at Dayton Montgomery County Park District, Dispatcher to Patrol Officer and Detective and Sergeant with Trotwood Police Department, Part-time Police Academy Instructor at Sinclair Community College and Miami Valley Career Technology Center, Chief of Police at Yellow Springs Police Department, Captain then Chief of Police at Butler Township Police Department, and currently the Safety/Security Coordinator at Miami Valley Career Technology Center.
Carl has received awards from the United States Secret Service for outstanding law enforcement service. He started a crime prevention program for the Trotwood Police Department at the former Salem Mall. Carl brought national accreditation recognition to the Trotwood Police Department as the accreditation manager. He emphasized the importance and crucial need for education and advanced training at each department and community he served.
Besides his outstanding career in law enforcement, Carl has volunteered for several years as an EMT, was a Boy Scouts of America leader, volunteered for BOGG Ministries, and to this day donates to many local charities that help those in need. 
Carl's MCJVS instructor for Criminal Justice was Clint Leslie.  His daughter, Heather Cantrell, nominated him for the MVCTC Hall of Fame.