MVCTC Alumnus, Trevor Holsinger, Inducted Into MVCTC Hall of Fame
10/13/2021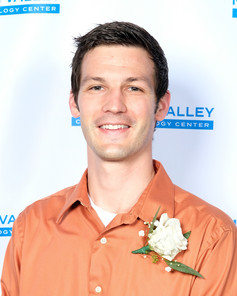 Trevor Holsinger was inducted into the Miami Valley Career Technology Center (MVCTC) Hall of Fame on Thursday, October 7, 2021, during the All Advisory Dinner. Trevor, a 2009 graduate of Preble Shawnee Schools, attended the Allied Health Tech Prep program at MVCTC.  He is now employed as a Certified Registered Nurse Anesthetist at Miami Valley Hospital.
Trevor Holsinger graduated from the MVCTC  with his State Tested Nursing Assistant certification and began his healthcare career at Miami Valley Hospital (MVH) as a Nutrition Associate and later as a Patient Care Technician (PCT) on the Heart and Vascular Unit.
While working at MVH, Trevor earned his associate's degree in Nursing and became a Registered Nurse (RN) from Sinclair Community College. After acquiring his Registered Nurse Licensure, he began to work on the Heart and Vascular unit at MVH as an RN.
While working full time, raising a family, gaining experience as a bedside nurse on a surgical step-down unit, Trevor also completed online classes for a bachelor's degree in nursing from Ohio University.
After two years, he transferred to the Heart and Vascular ICU. A year later, Trevor had the opportunity to recover open-heart patients and other specialty one-on-one patients. The challenge of those patients and the in-depth learning and teaching that he gained by working closely with doctors and surgeons more deeply solidified his desire to return to graduate school. He applied and was accepted to Texas Wesleyan University's Nurse Anesthetist program and earned his master's degree in Nurse Anesthesia in December of 2020.
Trevor is now a practicing Certified Registered Nurse Anesthetist and continues to serve the patients of Miami Valley Hospital. In addition, Trevor has served as Alternated Team Leader, Unit Council Member, and Preceptor during his bedside Nursing career.
Trevor's MVCTC Instructor and nominator is Tonya Barnett