MVCTC Alumnus, Sheriff Michael Simpson, Inducted Into MVCTC Hall of Fame
10/13/2021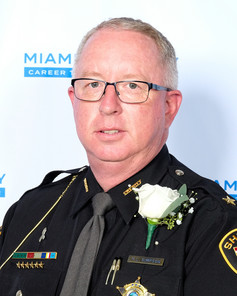 Preble County Sheriff Michael Simpson was inducted into the Miami Valley Career Technology Center (MVCTC) Hall of Fame on Thursday, October 7, 2021, during the All Advisory Dinner. Sheriff Simpson, a 1985 graduate of Eaton Schools, attended the Criminal Justice Program at the Montgomery County Joint Vocational School (MCJVS), now MVCTC.
Michael Simpson began his career with the Preble County Sheriff's Office as a Corrections Officer/Dispatcher in 1988. Sheriff Simpson was elected to his first full term as Sheriff in November 2004 and is currently in his 34th year of service with this office.
The Sheriff is the only elected law enforcement official in the state. Sheriff Simpson is accountable to the citizens and voters. Besides the personal accountability required to maintain his post, Sheriff Simpson is a professional, trained in the latest law enforcement techniques and criminal justice procedures. Sheriff Simpson understands the integrity needed to do the job legally and responsibly and uphold the public trust.
Sheriff Simpson attended Northwestern University, School of Police Staff and Command. He has also attended numerous law enforcement training classes throughout his career, including the Evidence Technician Course at the Miami Valley Regional Crime Lab, Technical Crash Investigations at the Ohio Highway Patrol Academy, and several management courses offered through the Ohio Peace Officer's Training Academy.
Additionally, Sheriff Simpson attended the 217th Session of the FBI National Academy in Quantico, Virginia, in 2004 and the National Sheriff's Institute in Longmont, Colorado, in 2005.
Sheriff Simpson has maintained his Certified Law Enforcement Manager's certificate from the Buckeye State Sheriff's Association since 2004.
Sheriff Simpson is also an active member of the Floyd E. Spitler Lodge of the FOP and a Rotarian with the Eaton Rotary Club.
Sheriff Simpson is a Past President of the Buckeye State Sheriff's Association. In addition, he is a member of the National Sheriffs' Association. He also serves on several volunteer boards throughout the county.
Sheriff Simpson's MCJVS Criminal Justice instructors were Edward Brown and Vernon Sherman. He was nominated for the MVCTC Hall of Fame by his classmate and Anna City Police Chief, Darrin Goudy.