MVCTC Alumnus, Zachariah Thompson, Inducted Into MVCTC Hall of Fame
10/13/2021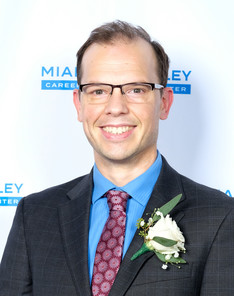 Zachariah Thompson was inducted into the Miami Valley Career Technology Center (MVCTC) Hall of Fame on Thursday, October 7, 2021, during the All Advisory Dinner. Zach, a 2000 graduate of Miamisburg Schools, attended the Computer Support Technology Tech Prep Program at MVCTC.  He is now the Lead Program Manager for the Advanced Tactical Acquisition Corps at Wright-Patterson Air Force Base.
Zach started his professional career at Shore to Shore by using the skills he obtained in his MVCTC career program.
He furthered his education at Sinclair Community College using the Tech Prep Scholarship he earned while attending the MVCTC. After receiving his associate's degree in Liberal Arts, Zach earned his bachelor's degree in Psychology followed by a Master of Business Administration from Wright State University.
While attending college and amply motivated by the September 11 Attacks, Zach found his niche in problem-solving and leadership. Working as a civilian for the United States Air Force (USAF), Zach has progressed through various positions--including working in Cairo, Egypt, as a Security Assistance Program  Manager, the Principal Program Manager in sustaining the fleet of F-22 air superiority fighters while stationed at Hill Air Force Base, Utah, and as a Product Line Manager of enterprise digital acquisition tools used in enabling USAF program execution.
After more than 15 years with the USAF, Zach is now the Lead Program Manager for the Advanced Tactical Acquisition Corps at Wright-Patterson Air Force Base. His job includes support for the Air Force's premier journeyman leadership program. Additionally, Zach is responsible for recruiting, interviewing, and selecting mid-level military and civilian acquisition professionals.
Additionally, he is accountable for developing and coordinating structured engagements of key government, academic, and industry stakeholders to support the enrichment, leadership, and data collection for complex and ambiguous national defense problems.
Zach provides coaching and mentorship to cadre members throughout the program with his acquisition leadership expertise providing perspectives and constructive feedback into programmatic deliverables. 
Zach's MVCTC Computer Support Technology instructors were Melissa Goodall, Pamela Oldham, and Mike Wilson.  He was nominated for the MVCTC Hall of Fame by his instructor Pamela Oldham.