MVCTC Alumnus, James Watts, Inducted Into MVCTC Hall of Fame
10/13/2021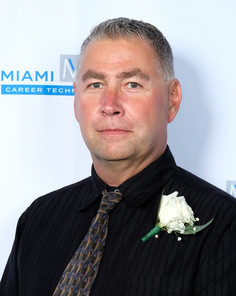 James Watts was inducted into the Miami Valley Career Technology Center (MVCTC) Hall of Fame on Thursday, October 7, 2021, during the All Advisory Dinner. James, a 1990 graduate of New Lebanon Schools, attended the Automotive Technology Program at Montgomery County Joint Vocational School (MCJVS), now MVCTC.  He has been an Automotive Technology Instructor at MVCTC since 1998.
As a student at MCJVS, James won numerous VICA career technical student organization contests at the local and state levels. In addition, he was chosen as one of the top 20 students in the State of Ohio as a senior.
After completing the MCJVS Automotive Technology program, James worked for eight years in Automotive Repair. Then, in 1998, he was hired as an Auto Technology Instructor at MVCTC.
James has been in the automotive industry since his senior year at MCJVS and has become an ASE Certified Master Technician with an advanced-level engine performance specialist certification. He can literally fix anything.
Local auto shops, prior colleagues, family, friends, prior students, and prior instructors contact him regularly with issues that they cannot resolve, only for him to diagnose it over the phone correctly.
As teachers have retired from  MVCTC, James has taken on teaching the other areas of the Auto Tech program. For example, he has taught engine performance, brakes, electrical, steering and suspension, and engines.
James has trained many students currently working in the automotive industry utilizing the career technical training he provided them with at MVCTC.
Most importantly, as described in his application, "James is an amazing instructor. He has perfected the ability to lead students to solutions rather than answer their questions. He gets his students to think through the aspects of a problem and the steps required to establish a solution." 
James' MVCTC Automotive Technology instructors were Gary Bernheisel, Keith Boothe, Roger Crabtree, Tony Gebhart, Dave Jessup, Glen Ryan, and Ken Woodard. He was nominated for the MVCTC Hall of Fame by his wife, Amanda Watts.