2006 MCJVS/MVCTC Hall of Fame
03/28/2016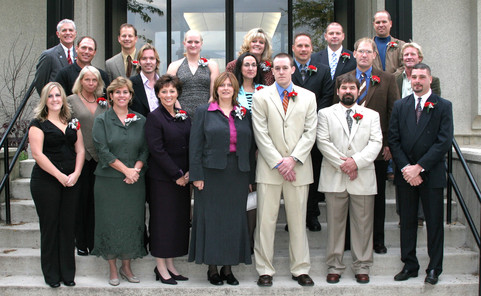 Pamela Skidmore Bartley, Secretary Services - Dixie High School 1979
When Pam Skidmore Bartley graduated from our Secretarial Business Education program in 1979, she could not have imagined how involved she would become with JVS/CTC as a graduate.  Pam returned as a substitute secretary and was then hired as a secretary in the Career Ed / Communications office in 1993.  Today Pam works as secretary in student services which encompasses communication, enrollment and guidance.  Pam works with our Student Ambassadors and their schedules for home school visits.  She plans and helps coordinate our member school Secretaries Day each year and conducts many of our tours for visitors.  She has coordinated the MVCTC Career Camp for the last 14 years for 200 junior high students.  She "directs traffic" in the guidance department and greets both the students and our staff with a smile.  The school is special to Pam for another reason.  Her husband, Andy, is a graduate of our Automotive Technology program, her older son graduated from our Automotive Technology Tech Prep program, and her younger son recently completed the MVCTC welding program.
Instructors:  Mrs. Beverly Neubauer, Mrs. Kristy Taylor
Nominator:  Ms. Donna Fletcher
Mark Beach, Masonry - Dixie High School 1976
Mark Beach graduated in 1976 from our Masonry program.  He left with 2 state VICA (now known as SkillsUSA) gold medals and a goal to own his own business someday.  He worked in residential, commercial, union and non-union construction jobs and learned everything he could about all the construction trades and how to run a construction company.  His dream came true 7-1/2 years ago when he started his own company, MEB Masonry.  Mark became an employer / partner with MVCTC in 2002 and in addition to having his three sons as employees, he now offers our masonry students internships and employment.  In addition to their trade, Mark makes an effort to teach them how to be dependable, respectful, hard-working, and successful.  He receives many good comments about his employees and how hard they work.  Mark recently worked on a house being auctioned for St. Jude's Hospital and hopes to donate one job a year to charitable organizations in the future. 
Instructors:  Mr. Dick Akers (deceased), Mr. Tim Milligan
Nominator:  Mrs. Teri Beach
Cortney Weber Bergbigler, Culinary Arts - Eaton High School  2000
Cortney Weber Bergbigler graduated from our Culinary Arts program in 2000.  At the encouragement of her instructors, Mrs. Fraley and Chef Stanziano, and Chef SteveTaylor at Meadowbrook County Club where she working during her senior year, Cortney enrolled in the Culinary Institute of America in New York.  She earned her associates degree in culinary arts and went on to earn her bachelors degree in restaurant management.  Following her graduation, she worked at Walt Disney World as a chef at the Animal Kingdom Restaurant and also at the Yacht and Beach Club where she continued to learn.  She left Florida for a job as dining room manager at Ardsley County Club in New York where she is in charge of the staff of servers, menu selection and managing both the formal and informal dining rooms.  Cortney had the opportunity to help open a new restaurant "Double O Grill" in New York where she is the manager that oversees the daily operations and a staff of seventy five for the 400-seat restaurant. She is also a mentor at the Culinary Institute of America.   Whenever she returns home to Eaton, she always visits the MVCTC and talks to the students about the opportunities they have in culinary arts and encourages them to work hard to reach their goals just as she is working hard to reach her own.
Instructors: Chef Edward Stanziano, Mrs. Marian Fraley
Nominators:  Mrs. Rene Lair, Mr. Steve North
John Bordenkircher, Heating/Ventilating/Air Conditioning - Tri County North High School 1986
John Bordenkircher graduated from our Heating Ventilating and Air Conditioning program in 1986.  Today he is the CEO and owner of Kitchen Solvers, a full service kitchen and bathroom remodeling and design firm serving the greater Dayton and Cincinnati area.  The business began with John's desire to apply his skills and a strong work ethic acquired at MVCTC.  It has developed into the #1 Kitchen Solvers franchise in the nation.  He conducts performance reviews, weekly meetings, and on-site guidance on a regular basis.  He is, in part, a teacher and motivator to those he employs.  John's vision for the business, along with his personal drive and ambition, led to the acquisition of a second store in Cincinnati this spring with his wife, Carrie.  With the addition of the second franchise, he is currently responsible for an aggressive advertisement campaign designed for that region. John is a member of several professional groups and serves on the Board of Directors of the National Association of Remodeling Industry.  John is the primary designer for the firm and some of his kitchens have been featured in Entrepreneur, Housetrends, and Daytonian Style magazines.
Instructors:  Mr. Jack Schwilk (deceased), Mr. Ron Fasnacht
Nominator:  Mrs. Stephanie Hinds
Matthew Brennan, Culinary Arts - Franklin Monroe High School 1997
Matthew Brennan graduated from our Culinary Arts program in 1997 and went on to graduate from the Culinary Institute of America in Hyde Park, New York.  While attending CIA, he worked at Sorrentino's Deli, Mona Trattoria (a small Italian restaurant) and the Greenwich Country Club in Connecticut.  He graduated from the DIA as one of the top five students in his class and has worked as chef at the Maissonette in Cincinnati, Carmel Country Club in Charlotte and several other upscale restaurants in the Charlotte area.  He is currently executive sous chef at the Marriott City Center in Charlotte where he is responsible for their seven million dollar a year catering and banquet operation.  He supervises and leads a staff of 15, many of whom are Hispanic.  Matthew has developed the ability to speak Spanish fluently and has helped his staff as an interpreter when they have encountered difficulties with their children's schools or their landlords.  He has helped his employees make repairs in their homes and taught them how to help their children with their homework.  He is currently mentoring Johnson and Wales students and has served as a guest lecturer and presenter.
Instructor:  Chef Edward Stanziano
Nominator:  Mr. and Mrs. Michael Brennan
Ed Broerman, Heating / Ventilating / Air Conditioning - Bethel High School 1985
When he was still a student in our Heating, Ventilating and Air Conditioning program, Ed Broerman knew that he wanted to own his own company someday.  He also knew the importance of good service; honesty and treating customers like you want to be treated as he explained to the school secretary when he returned from an off-site visit.  When he graduated in 1985, his determination never wavered.  He founded Ed's Heating and Cooling in 1986 and has grown as a leader in the industry.  As a member of ACCA, Air Conditioning Contractors of America, Ed has served on the Dayton ACCA Board of Directors since 1997 and as president in 1999 and 2004.  Today he has 18 employees and currently has six JVS/CTC graduates working for him.  Ed has donated his time to work for both the Tippecanoe Schools and MVCTC.  He has served on our heating and air advisory committee and helped in various ways when we have had levies on the ballot.  He has never forgotten MCJVS and speaks "loud and proud" about the school and how it helped him.
Instructors:  Mr. Jack Schwilk (Deceased), Mr. Ron Fasnacht
Nominator:  Mrs. Nan Idle
Craig Burkholder, Cosmetology - Valley View High School 1991
Craig Burkholder graduated from our Cosmetology program in 1991 and went on to attend post-graduate training at the L'Oreal Institute of New York and Vidal Sassoon Academy in London.  He worked at several local salons in the Dayton area and in 1995 at age 22, he opened the Affinity Salon on Far Hills Avenue in Dayton.  His salon has continued to grow and has been named in the top 200 salons by Salon Today Magazine for five consecutive years.  In 2004, he expanded his business (doubling its size) and now has a full service spa in addition to the beauty salon.  He has received both national and international awards for his work in cosmetology.  He currently has 27 employees and serves on the MVCTC cosmetology program advisory committee.  In addition, he serves on the advisory board of Miami Jacobs College and is contracted to assist in wigs and hair styling for the shows at Victoria Theater, Schuster Center and Opera Guild.  Two years ago he began Operation Transformation where he and his employees donate some Sundays to families of activated military personnel.  They also participate in Project Day-Maker where they donate their services to people of need in the community.
Instructors:  Mrs. Monica Bir, Mrs. Cheryl Sexton
Nominator:  Mrs. Monica Bir
Robert P. Ewry, Jr., Electrical Trades - Eaton High School 1984
Robert P. Ewry, Jr. began his career as an advanced placement student in the Electrical Trades program at Montgomery County JVS in 1984.  He was hired by Garber Electric, a company of about 10 employees at the time.  The business grew and Robert was quickly recognized as an excellent electrician with leadership ability.  He was soon supervising jobs and as the company rapidly grew and was foreman on numerous jobs with over 30 electricians under his authority by the early 1990s.  An opportunity to expand his exceptional skills came in 1995 when a teaching position in the MVCTC electrical trades program opened as a result of the Apprenticeship Program start-up lead by former ET instructor, Dale Frost.   Although he would be taking a significant pay cut, Robert applied and was hired.  In his eleven years here as an instructor, he has aided in the placement of over 100 students in the nationally recognized Apprenticeship Program.  Robert has participated in Project Trade twice, and has attained his State of Ohio Electrical Contractors License.  He is an instructor for our Career Camp held for 7th, 8th, and 9th graders each year and is active in our SkillsUSA club activities and competitions  He has completed several Hocking Tech courses and requirements to move up in his professional development and teaching position at MVCTC as well.
Instructors:  Mr. Dale Frost
Nominator:  Mr. John Leiter
Noreen Riley Hall, Accounting - Vandalia Butler High School  1978
Noreen Riley Hall graduated from our Accounting program in 1978.  She interned at various businesses during school and learned that the path she wanted to take in her career would be paved with education and hard work.  While working a full-time job, she enrolled in Wright State University  and successfully earned her bachelor's degree in Accounting and Finance and then continued to successfully complete the Certified Public Accountant exams.  Today Noreen is corporate secretary / ownership controller for the Miller Valentine Group.  In addition she is a member of professional organizations and has served on the board of Girl Scouts of America for several years.  Her nominator wrote, "Noreen has adjusted her business and demanding schedule to accommodate both her job and her family's needs.  She juggles all these responsibilities with humor, grace and humility.  She is a role model for all young, working women trying to balance their many responsibilities.
Instructors:  Mrs. Marsha Evans, Mrs. Pat Kuzac
Nominator:  Mrs. Beth Hughes
Jody Helmick Henry, Animal Production & Care - Milton Union High School  1982
 Jody Helmick Henry graduated from our Animal Production and Care Program in 1982  where she had been an FFA officer and delegate to attend FFA Leadership Conference in Washington, D.C.  After graduation, Jody worked and enrolled in Sinclair Community College where she received her Associate of Science Degree.  She then attended the University of Dayton where she received her Bachelors of Science Degree and was hired as a biology teacher at Northmont High School upon her graduation in 1998.  She is currently working on her Masters Degree in Education through University of Dayton.   Bob Nehring, her nominator, wrote, "Jody is an outstanding and talented teacher.  She receives compliments from both her students and her colleagues at Northmont.  She is a very motivating, positive person selected to be a mentor teacher four times in the last five years.  She is also involved in the school's extracurricular program.  She was one of the founding directors of the Northmont Jr. Flag Line, vice president of the Northmont Band Boosters, and served as a member of the marching band pit crew for 2 years.  In addition, she has made a contribution to the school athletic program by coaching softball.  Jody is  a person any school would be proud to say, 'she is one of ours.'"
Instructors:  Mr. Robert Nehring, Mr. Steve Johnson
Nominator:  Mr. and Mrs. Robert Nehring
Donavon Kessler, Architectural Drafting - Arcanum High School  1979
Donavon Kessler graduated from our architectural Drafting program in 1979.  He worked in the family woodworking business with his father, Donavon L. Kessler, from 1979 until his father's passing in 1994.  During that time, the company employed 5 to 9 employees and worked out of a 1,200 sq. ft. building mainly doing trim labor jobs.  Today, Donavon and his wife, Christine, have 35-45 employees. Donavon Kessler Construction, Inc. occupies an 18,000 sq. ft. building located between Dayton and Cincinnati.  The company performs trim labor, custom architectural casework, custom cabinetry, and high end installed products. He is an active member of the Dayton Home Builders Assn. and past board member.  He has three other businesses – Siena Enterprises, Twin Oaks and Closet Creations but still finds time to serve as a member of the MVCTC carpentry program advisory committee and employs MVCTC students. 
 Donavon's son, Gregory Kessler,  has been with the company since he  graduated from the MVCTC architectural program in 1998.  Donavon stated that the architectural education that he and Gregory received at MVCTC enabled them to have an edge in offering their customers comprehensive design and installation.    In nominating Donavon, carpentry instructor, Kelly Kramer, wrote, "Donavon has donated his time, talent, and material to help make the carpentry program the success it is today."
Instructors:  Mr. Randy Archer
Nominator:  Mr. Kelly Kramer
William Kindred, Data Processing - Northmont High School 1978
Bill Kindred graduated from our Data Processing program in 1978 and then served in the U.S. Air Force and received his bachelor's degree in political science and business.  He became a licensed funeral director and owns Kindred Funeral Home in Englewood, Ohio.  Bill has never forgotten us.  He serves as a speaker for our students, as a supporter for our foundation and levies, and as a dedicated and valuable member of our charter MVCTC Strategic Planning Group.  In addition, he serves as a board member of the MVCTC Education Foundation that is dedicated to assisting our students whose financial or personal needs prevent them from achieving an education and reaching their full potential.  Bill's community work is admirable and includes Northmont Rotary, where he has served as president and was named Rotarian of the Year in 2002.  He is a member of the Northmont Chamber Board, Northmont Education Foundation Board and Northmont Strategic Planning Committee.  He was named to Northmont's Roll of Recognition  and has worked with Northmont's Peer Facilitation Group of student mentors.  We were honored to award Bill the "Friend of the MVCTC Award" in 2001.
In addition to his educational support for Northmont and Miami Valley Career Technology Center, Bill also serves as a board member for the YMCA and Aullwood.
Instructors:  Mrs. Sandra Shepler, Mrs. Carolyn Hoffman
Nominator:  Dr. John Boggess
Jon Laughman, Masonry - Miami East High School  1981
Jon Laughman graduated in 1981 from our masonry program.  He worked in this area and then moved to Georgia to work for two former graduates of the JVS masonry program, one of them, Lyndsey Jarvis, also a Hall of Fame member, inducted in 1996.  For the next eleven years, Jon took advantage of learning everything he could from other skilled masons and in 1994 he formed his own company, Laughman Masonry.  Laughman Masonry is highly sought after throughout the greater Atlanta area for Jon's specialty, detailed work including masonry fireplaces, arches, creative designs and custom signs that may be viewed upon entering exclusive neighborhoods. Jon also acts as instructor to his employees in teaching them these same skills.  Jon states that he learned his craftsmanship from Mr. Milligan while attending the Montgomery County JVS.  He continues to go back for updated training in the latest technology and materials and recently taught his son's vocational class by giving a demonstration.  He is a deacon of his church, has coached sports and is a member of the local Lion's Club.  Jon states, "Mr. Tim Milligan, Mr. Dick Akers (now deceased) and MCJVS deserve this award.  I give them credit for the opportunities and success I have had in the masonry field over the past years."
Instructors:  Mr. Dick Akers (Deceased), Mr. Tim Milligan
Nominator:  Miss Mary Beth Freeman
Jeff Loomis, Aviation Maintenance - Vandalia Butler High School 1981
Jeff Loomis graduated from our Aircraft Mechanic program in 1981 and passed the FAA required tests the first time he took them.  He began his career with Air Logistics in New Iberia, Louisiana, working on helicopters used to fly oil rig personnel to the drilling platforms in the Gulf of Mexico.  He has worked on military bases around the world from Italy to Germany to Japan.  He volunteered with Beechcraft Division of Raytheon to go to Saudi Arabia to service the C12 aircraft being used on reconnaissance missions.  He told his parents he wanted to "help out his country and keep our birds up there" during Desert Storm.  By 2004, he had moved to Houston and purchased a business maintaining five of the Beech twin engine turboprops.  Today his company, Hummingbird Aviation, maintains (1) C90 (2) C90B, (1) E90 and (1) 200 at Hobby Airport in Houston, Texas.  In addition to working in his business, Jeff flies for pleasure and is part of a formation flying group that flew over the NASA Space Center on the 100th anniversary of the Wright Brothers first flight.  Jeff is a member of the Wolfe Airport Volunteer Fire Department and Manvel Lions Club.  Jeff's diverse background, partnered with hard work and dedication, put him on a course to success.
Instructors:  Mr. Laufer (deceased), Mr. Stooksberry
Nominator:  Mr. Dean Loomis
Kelley O'Brien Marker, Welding - Vandalia Butler High School 1999
Kelley O'Brien Marker came to the MVCTC as a junior in the Industrial Engineering Technology program.  She liked welding so much she transferred to the Welding class for her senior year and graduated from the program in 1999.  Upon graduation she continued to work for Ry-Cor in Dayton and she applied for and received a scholarship for a nine month welding training program at the Hobart School of Welding Technology.  She is the first female to ever win a scholarship at Hobart Welding School  After her training there, she applied at Edison Community College and earned an Associates degree in Applied Science in Welding Manufacturing.  While at Edison, she worked at Enginetics.  Kelley currently works for Enginetics Aerospace in Huber Heights where she welds aerospace applications and operates an eight axis robotic tig welder.  She holds 40 welding certifications and is currently working for the MVCTC Adult Education Division. teaching Tig Welding, Blueprint Reading for Welders and working with other evening welding classes that Sinclair Community College offers here at MVCTC.  Kelley always readily agrees to help the welding program in any way and has spoken to the students, encouraging them to specialize in welding.
Instructor:  Mr. Jim Williams, Mr. Larry Youngblood
Nominator:  Mr. Larry Youngblood
Michael Martin, Welding - Dixie High School 1981
Michael Martin graduated from our Welding program in 1981 and soon after, became a certified welder.  He worked for Enginetics Corporation in Huber Heights and started his own business in his garage where he worked in the evenings.  His business, Martin Welding in New Lebanon, has grown and he now employs two shifts with 14 employees and is doing work for several large companies in addition to government work.  He also takes time to help individuals who need a small welding job done.  He often does this himself and charges little or no pay.  He has served on the advisory committee for welding and has taught night classes for adult education in welding.  In addition, he hires many MVCTC graduates and encourages students to enter the welding profession.  Michael stated that he thanks his Lord and his parents for a good up-bringing, and gives special thanks to Mr. Milton Deets and Mr. Larry Youngblood, his welding instructors at MCJVS.
Instructors:  Mr. Milton Deets, Mr. Larry Youngblood
Nominator:  Mrs. Karlene Martin-Casoni
Sharon Elliott Roberts, Medical Secretary - Northmont High School 1978
Sharon Elliott Roberts graduated from our Medical/Dental Secretary Program in 1978.  During her senior year, she worked for Dr. Michael Hamilton and returned to the JVS adult education program following graduation to add medical assistant skills to her medical secretary skills.  She continued to work for Dr. Hamilton and then managed the Urgent Care facility in Englewood.  The Dayton Vascular Lab opened and the management there was familiar with Sharon's strong work ethic, ability to learn quickly and broad knowledge base.  They offered her a job and through hard work and perseverance, she became a registered vascular technician.  Physicians around the Miami Valley trust Sharon to accurately perform vascular studies on patients and consult with them on patient needs.  Sharon eventually purchased The Dayton Vascular Lab that is now located in the Dayton Heart Hospital.  In nominating Sharon, Cindy Booth wrote, "Sharon's professionalism and success are exactly what we want our students to achieve in life."
Instructors:  Mrs. Sandra Shepler, Mrs. Debbie Stricker
Nominator:  Mrs. Cindy Bell Booth
Glenda Yeary Updyke, Medical Lab - Dixie High School 1976
Glenda (Yeary) Updyke graduated from Montgomery County JVS (Medical Lab) and Dixie High School in 1976.  After graduation she obtained her lab certification and worked as a lab assistant to help finance her college education.  She has an Associate of Science degree in Physician Assistant and Bachelors of Science in Health Care Professions from Kettering College of Medical Arts where she graduated with honors.  Glenda has worked at The John Hopkins Hospital on the highly esteemed liver transplant team while commuting from her home in Troy.  During that time, she also attended Alderson Broaddus College in West Virginia where she earned a Master's of Science with an emphasis in Surgery for Physician Assistants.  Currently, Glenda works as a Physician Assistant at The Ohio State University Medical Center as part of the thoracic surgery team.  Additionally, she teaches medical students and surgical residents during their thoracic surgery rotations.  Glenda is active in her church and has served as part of the medical mission's team through Heart to Honduras, where she has traveled to Honduras to provide health care to the underprivileged and medically underserved people.  Glenda credits her family for their support throughout her success.
Instructors:   Miss Carol Campshure, Mrs. Faye Green
Nominator:   Mrs. Kathy Ferriell
Jeff Whisman, Environmental Science - Vandalia Butler High School 1994
Jeff Whisman came to the JVS/CTC as a highly motivated student entrepreneur.  He enrolled in the Environmental Science program as a junior and completed his senior year in the first graduating class of the Environmental Health and Safety program in 1994.  While still a high school student, Jeff started his own lawn care business and was very active in growing that business after graduation.  The business has met with great success, requiring staffs of employees.  Jeff has continued to hire our students from our agriculture department programs.  In addition, he has served in an advisory capacity to the environmental program and has spoken to many classes at CTC about entrepreneurship, job seeking skills and leadership.  Each year Jeff sponsors a cash award scholarship to recognize students in agriculture who excel in leadership skills..  Jeff never misses an opportunity to share how his experience in FFA and his education and training at MCJVS have helped him in his career advancement.
Instructors:  Mr. Mike Mullen, Mr. Mike Buchanan
Nominator:  Mr. Mike Buchanan
Hope Wilson, Horticulture - West Carrollton High School  1983
Hope Wilson was not the average student entering the JVS in the fall of 1981.  She was legally blind, chemically dependent, and had been arrested for public intoxication at a very young age.  She was late beginning school due to a stab wound.  By the end of her senior year, fearing for her future, her instructor, Karen Wellbaum, arranged for Hope to enter rehab and receive her diploma.  Hope was a young girl who was very bright and wanted a better future. After a long recovery, Hope moved to Columbus and received her bachelor's degree in art therapy counseling from Capital University and later received her master's degree and counseling certification from University of Dayton.  Prior to opening her private practice, Hope created a program called YES (You're Extra Special) in the Columbus school system for children from drug and alcoholic abusive homes. She facilitated the writing of a book with these children called, "When Mommy Drinks Drugs."   She was a coordinator / child counselor for Amethyst, a program for homeless women with long term chemical dependency and their children, as well as abused and chemically dependent women who have been incarcerated. She currently has a private practice in Columbus Ohio where she is a sought after speaker and counselor who never let her numerous handicaps stop her from achieving a better life for herself and giving so much to so many others.  Hope will tell you that her biggest success is achieving twenty-two years free of alcohol and drugs.
Instructors:  Mrs. Karen Wellbaum, Mr. Erik Munson, Mr. Rich Gustafson
Nominator:  Mrs. Karen Wellbaum