2011 MCJVS/MVCTC Hall of Fame
03/28/2016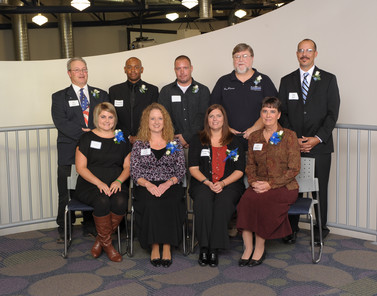 Joe Bradley
Plumbing
Northmont High School 2000
Joe Bradley began his career as an apprenticeship student in the MVCTC Plumbing program in 1998. After graduating with honors, he quickly rose through the ranks and began to run work in the field. Management at the respective company saw Joe's growth and quick learning ability and decided to bring him in the office as mid-level management. Joe was then taught to estimate which came very naturally to him. With his field knowledge, he quickly became an exceptional estimator. After several months of this, Joe began to run work as a project manager. Joe is described by co-workers as professional, courteous, honest, trustworthy, and true to his word. He has donated time and energy to MVCTC on our Advisory Committee and by teaching, others that you can do anything you put your mind to. Currently Joe Bradley is the Branch Manager of the Columbus office for Regal Plumbing and Heating Company.
Instructor (s): Mr. Greg Gilbert
Nominator (s): Mr. Jason Keck, Ms. Gerardine Bunnell, Ms. Tricia Etter, Mr. Joe Schmiesing, Mr. Jon Whitton
 
Jon Carr
Farm Management
Northmont High School 1979
Jon Carr graduated from the MCJVS Farm Management program in 1979. He was active in the FFA while attending MCJVS and his support of the school continued after graduation. He has made many significant contributions through his work in the community. He volunteers his auctioneer services to Brookville Community Picnic, Montgomery Cattlemen's, Brookville Band Boosters, Northmont Boosters, Montgomery County Fair, Preble County Fair, and the MVCTC Ronald McDonald House FFA Charity Auction. Jon has been awarded the FFA highest honor, the Honorary Chapter Degree. He serves on the board of Montgomery Cattlemen's and Community United Methodist. He is also involved with Brookville Football and Basketball, Dayton Martial Arts and MVCTC FFA Alumni. Jon works with the Realty Group and Jon Carr Auctioneer services, and is a past recipient of the Dayton Area Board of Realtors sales leader award. He assists people through tough times in their life. When a person reaches the point in their life when they need to reduce their possessions, Jon goes out of his way to make sure they are treated fairly, be it selling their house or belonging at public auction. His nominator said, "Jon has given a lot to MVCTC, and never once asked for anything in return. This type of student makes me proud."
Instructor(s): Mr. Tom Pulfer, Mr. Waid Lyons
Nominator(s): Mr. Waid Lyons, Mr. Christopher Craft
Abe Dull
Agri-Technology
Brookville High School 1998
Abe graduated from the MVCTC Agri-Technology program in 1998.  He was very involved with the FFA participating in several contests. He was a member of the MVCTC National Technical Honor Society and class FFA President. While a student at MVCTC, Abe was instrumental in the installation of the GPS technology placed on the school's combine. He worked closely with Harvestland representatives who provided their expertise to adapt this to our machine. Since graduation, Abe has donated seed to the MVCTC farm, and he has provided a site for MVCTC students to learn more about agriculture and alternative energy sources through class projects and field trips. He continues to seek training and education and they are applying alternative energy sources on the Dull Farm. The enterprise produces over 10,000 market hogs, several hundred acres of seed corn and seed beans. They also have a feedlot for cattle that can handle about 100 head each year. Abe has been the Treasurer of MVCTC FFA Alumni organization for the past eight years. His nominator said, "Abe was one of those students who rarely come along in an instructor's lifetime. I am blessed to have been a part of his life and education. "
Instructor(s): Mr. Larry Seibel, Mr. Waid Lyons
Nominator(s): Mr. Waid Lyons
Mike Evans
Electrical Trades
Bethel High School 2000
Mike has advanced at a rapid pace since graduating from the Electrical Trades program at MVCTC and Bethel High School in May of 2000. He immediately was selected into the electrical apprenticeship-training program at the Dayton Electrical Joint Apprenticeship and Training Committee (JATC). A very noteworthy student and with perfect attendance, Mike graduated from the apprenticeship program as a journeyman wireman on May 6, 2005. The opportunities provided to Mike through the Apprenticeship Program allowed him to get a head start on his career. It was not long before Mike became a foreman and then general foreman while working for Wagner Industrial Electric and ESI Electrical Contractors, where he managed small to major electrical projects. In March of 2008, Mike took the job as Membership Development Coordinator for IBEW Local Union 82. He is responsible for the recruitment of electrical workers of all levels into the unionized electrical industry. Mike continuously monitors all work done to ensure compliance with federal law, and oversees the Construction Wireman/Construction Electrician (CW/CE) program, which is a pathway for all levels of electrical workers to become journeymen electricians. Mike is also a committee member and trustee for the Dayton Electrical JATC, where he oversees the electrical and telecommunication apprenticeship training programs. Mike has remained very active at MVCTC by participating in roundtable discussions, open houses, as an advisory board member, and most noteworthy, the Skills USA regional and state competitions. Other community involvement includes the annual Boy Scout Cookout at Riverscape, and the annual United Rehabilitation Services (URS) Telethon as well as other URS events.
Instructor(s): Mr. Robert Ewry, Mr. John Leiter
Nominator(s): Mr. Richard Brooks
Elisabeth Frisk
Executive Secretary
Arcanum-Butler High School 1996
Elisabeth (Lis) Frisk graduated from the Executive Secretary program in 1996. While attending MVCTC, Lis was a National Vocational Honor Society member, class treasurer, and actively involved in Business Professionals of America, competing at both the state and national levels. During her senior year at MVCTC, Lis began her advanced placement with Scitex Digital Printing as a Materials Management Assistant. Her impressive job performance motivated Scitex to create a permanent position for her. When Eastman Kodak bought out Scitex, she remained with the company as a Purchasing Specialist and was given additional responsibilities that included providing training for domestic employees and vendors. Lis was sent to Kodak's Rochester, NY, main offices to learn the process of data integration from Oracle to SAP. This led to her creating a technical training manual to use at the Kettering location in Purchasing where she was responsible for the training. When Kodak's IT department saw her manual, they were impressed to the point that they distributed the manual globally for training. Lis now participates in webinars and net meetings providing training and global support on Kodak's purchasing processes in SAP. Her recent accomplishments include being asked to be on  a worldwide committee that will make recommendations to Kodak's Purchasing Council on how to streamline and unify their purchasing processes globally and being nominated by her co-workers for Kodak's "Jane Lanphear Award" that recognizes women leaders across the Kodak company who exemplify the qualities of leadership, work-life balance, community involvement, and serving as role models to help other women grow and achieve their full potential.
Instructor(s): Mrs. Katrina Robinson, Mrs. Norma Kamerer
Nominator(s): Mrs. Katrina Robinson, Mrs. Arlene Studebaker
Michelle Jackson
Photography
Valley View High School 2006
Michelle graduated from MVCTC and Valley View Schools in 2006. She then attended Ohio Institute of Photography (OIPT) in Dayton, Ohio. She was awarded the Golden Gallery Award at OIPT for the winter 2008 graduating class. Throughout her high school and college years, Michelle worked as a photographer with her father, Bob Nixon, Still Action Photography. During her senior year at OIPT, Michelle and her father remodeled the garage into a modern, state of the art, digital studio. Much of the studio is modeled after the studio at MVCTC. After graduation, Michelle acquired the business and changed the name to Nixon Photography. Since then, Michelle has become a much sought after Wedding and Portrait Photographer. She recently was recognized as a 2011 winner in the Knot Best of Weddings. "The Knot", is one of the national leading wedding resources. Michelle is on the advisory board for MVCTC. She is also an affiliated volunteer photographer with "Now I Lay Me down To Sleep" non-profit organization. She is a member of the Ohio and Kentucky Professional Photographers Associations. She continues to take Photography workshops and seminars to help forward her career.
Instructor(s): Mr. Troy Baker, Mr. Jay Vada
Nominator(s): Ms. Sally Nixon
Randolph Peagler III
Auto Services
Trotwood-Madison 1995
Randolph (Randy) Peagler III graduated from the MVCTC Auto Services program in 1995.  School was not always easy for Randy, but he had a strong will to try his best, even though he is Dyslexic. After graduation, Randy started as a student officer at Sinclair Community College. From there Randy went to Cub Foods as a loss prevention officer, and while there put himself through the MVCTC's adult Basic Police Academy. After passing this class and getting Ohio police officer certification, Randy was hired by the city of Franklin as a reserve officer. After six months in Franklin, Randy was hired by the Springboro Police Department. After getting some experience under his belt, he was sent to the Basic and Advanced Hostage Negotiations School in London, and now works for the Hostage Negotiation Team with the Technical Crime Suppression Unit with Montgomery County. In this position, he acts as the primary or secondary negotiator and the intel at the scene. In addition, Randy is the Springboro juvenile officer who works with teens in trouble, where he supervises their community service and encourages them to get back on the right track. Randy is an officer in charge when the sergeant is not on duty, hoping someday to be a sergeant or detective. Being a part of the community, whether it is policing the streets, ministering to his fellow officers, or playing basketball with the neighborhood kids, is what Randy loves about his job.
Instructor(s): Mr. Dennis Kugler, Mr. Dick Freeman
Nominator(s): Mr. Dennis Kugler
Lori Robison
Agencies Secretary
Franklin Monroe 1984
During her senior year at MCJVS, Lori began her advanced placement at NCR Corporation in Dayton as a word processor. She was hired for a permanent position upon graduation and remained with the company until 2009 when NCR left the Dayton area. During her tenure at NCR, Lori advanced to Secretary to the Assistant Vice President of the Federal Systems Group and was Executive Secretary to the Vice President of Computer/Industrial/Medical/Education/Government (CIMEG) from 1993 until 2001. Her most recent role was Assistant to the Corporate Controller. Lori was faced with the challenge of finding employment after 25 years in a stable career. After only one month of being unemployed, she was hired as the Executive Assistant to Steve Cobb, Chairman and CEO of Henny Penny Corporation in Eaton. She has been with Henny Penny in her current position for one and one-half years and has continued her pattern of advancing within the company. She is chair of the contributions committee for the company. She also has been Head 4-H Advisor for 13 years; Darke County 4-H Committee Member for 12 years; Cub Scout Leader for four years; Soccer coach for 12 years; Soccer board member for 11 years; PTO member for four years; and has been on numerous school fund raising committees. Lori married a 1984 MCJVS graduate and their second of four sons graduated from MVCTC in 2010.
Instructor(s): Mrs. Katrina Robinson, Ms. Nancy Roach
Nominator(s): Mrs. Katrina Robinson
Kelly Vogler
Electronics
Ansonia 1991
Kelly J. Vogler graduated from the MVCTC Electronics program in 1991. She excelled while attending MVCTC being selected as co-president of the MVCTC Junior Achievement Company, President of VICA I, selected to read morning announcements on TV, and inducted into the National Vocational Honor Society. After MVCTC, Kelly continued her education and became a Registered Nurse. She has since completed her Master of Science, Nursing from Northern Kentucky University and became a Board Certified Family Nurse Practitioner. In her mid-30's she responded to her call to service & commissioned as a Captain in The United States Air Force where she is currently stationed at Wright-Patterson AFB. She has volunteered numerous times with Special Olympics in Darke, Montgomery & Hamilton Counties in basketball and track & field events. This included being in charge of donations for Hamilton County's golf outing – their largest fundraiser. She is a Basic Life Support Instructor. She has also been active with the Leukemia & Lymphoma Society, Multiple Sclerosis Society, Habitat for Humanity and at two different homeless shelters. She is a regular blood donor, on the bone marrow registry and an organ donor. Her nominator writes, "Kelly is a special person, always smiling, and friendly with a heart of gold."

Instructor(s): Mr. Mike Wilson, Mr. Steve Brandt, Mr. Bob Frantz
Nominator(s): Mr. Mike Wilson
Louis Warren
Machine Trades
Twin Valley North 1974
Louis (Lou) Warren graduated from the Machine Trades program in 1974. Machinist training led him to the U.S. Army where he also cross-trained in sheet metal, HVAC, and plumbing. In 1979, Lou went to work for Weaver & Son, a plumbing, electrical & HVAC company, where he earned Journeyman status in HVAC and Plumbing. Lou went on to become the Head of Maintenance at Tri-County North School District where from 1992-97, he was responsible for all of maintenance and building projects. Lou wanted to find a way to impart his knowledge of the trades. He responded to an advertisement for an Adult Education HVAC Coordinator/ Instructor at MVCTC. He started in 1997 and built the program to what it is today, starting with one instructor and building it to several instructors and several classes a year. The best reflection of Lou's skills lies in his student outcomes, which includes a 95% job placement rate. Lou has always had an interest in helping people. He is passionate about teaching and mentoring students, and is student focused in his teaching methods and structures his classes to reflect the needs of students. Lou loves what he does and it shows. He loves his community and follows the sports when ever able as well as supporting Lewisburg's Derby Days. He has coached peewee football at Northmont as well as TCN. He has helped people who are not a fortunate as he is by doing jobs and not charging them when he has seen there is a real need.
Instructor(s): Mr. Dale Parkey
Nominator(s): Mrs. Shirley Warren, Mr. Lonnie Huggarden, Mrs. Amy Leedy, Ms. Anne Shearer, Mr. Charles Stalcup