MVCTC Preschoolers Learn About Fire Safety
10/26/2021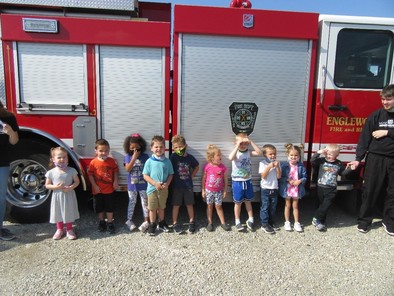 Englewood, Ohio -- The Miami Valley Career Technology Center (MVCTC) preschool students received a special visit from the Englewood Fire Department. As part of the unit on Community Helpers, the preschoolers learned about what firefighters do and the importance of fire safety. The preschoolers enjoyed watching the firefighters quickly dress in their uniforms and gear. They also learned why they should not fear or ever hide from them in the event of a fire. In addition, the students enjoyed checking out the inside of the fire truck and all the tools used by firefighters.
The MVCTC's preschool is part of the Early Childhood Education program. In this program, high school students learn about child development and are challenged to design and implement lessons for preschool students. Additionally, students gain experience in the workforce by volunteering and working in the community in various daycare centers.
The MVCTC preschool is fully licensed and open to the public. Registration is currently closed for the 2021-2022 school year. Registration for 2022-2023 will begin in the Spring of 2022. For more information on this program, as well as parent testimonials, please visit www.mvctc.com/preschool.