MVCTC SkillsUSA Chapter 4 November Meeting
11/17/2021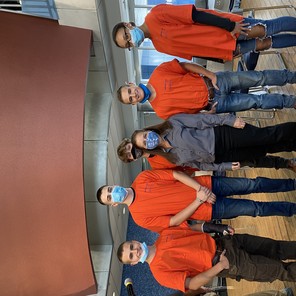 Englewood, Ohio – The Miami Valley Career Technology Center (MVCTC) SkillsUSA Chapter 4 held its November meeting on November 3, 2021.
The 2021-2022 SkillsUSA Chapter 4 Officers:
President – Ross Cornett, Construction Carpentry/Valley View
Vice President – Dylan Cornett – Construction Carpentry/Valley View
Officer – Mallorie Maxwell – Construction Carpentry/Northmont
Officer – Kendall Green – Construction Carpentry/Valley View
Officer – Gabriel Betzner – Construction Carpentry/Tipp City
Kendall Green welcomed the students to the SkillsUSA Chapter 4 meeting and led everyone in the Pledge of Allegiance.
After the pledge, the officers introduced Mr. Ewry, who introduced guest speaker Karen Klingle, Owner of Digital Watchman, LLC. She shared valuable information on her company and safety and security solutions job opportunities. Digital Watchman was established in 2009, servicing businesses in the Greater Dayton, Cincinnati and Northern Kentucky area. They install and service a variety of commercial low voltage systems, specializing in customized Fire Alarm and Access Control systems. Digital Watchman was established as a Woman Owned Small Business (WOSB) with the Federal Government in July 2019. Their technicians are state licensed and OSHA certified. They are regarded as the regional provider of quality security solutions. The mission of Digital Watchman, LLC,"is to provide customized life safety and security solutions for our customers with the highest craftsmanship possible. Low voltage electrical systems is our field, Fire and Security Alarm System installation and service is our specialty!"
Mr. Ewry asked Mrs. Kingle questions on job shadowing, along with what her work entails, requirements on being certified in her line of work, and the hours required to earn certifications.
Learn more about Digital Watchman, LLC. At https://www.digitalwatchmanllc.com.
Lastly, the meeting closed with the SkillsUSA pledge. SkillsUSA is a partnership of students, teachers, and industry working together to ensure America has a skilled workforce. We help each student excel. A nonprofit national education association, SkillsUSA serves middle-school, high-school and college/postsecondary students preparing for careers in trade, technical and skilled service occupations.
Mission Statement: SkillsUSA empowers its members to become world-class workers, leaders and responsible American citizens. We improve the quality of our nation's future skilled workforce through the development of SkillsUSA Framework skills that include personal, workplace and technical skills grounded in academics. Our vision is to produce the most highly skilled workforce in the world, providing every member the opportunity for career success.
SkillsUSA serves more than 372,655 students and instructors annually. This includes 20,598 instructors who join as professional members. Including alumni, SkillsUSA membership totals over 434,000. SkillsUSA has served 13.6 million annual members cumulatively since 1965 and is recognized by the U.S. Department of Education and the U.S. Department of Labor as a successful model of employer-driven workforce development.
For more information about the Miami Valley Career Technology Center, visit www.mvctc.com.
For 50-years, MVCTC has provided career technical education for 27 partner school districts encompassing five counties, including Darke, Miami, Montgomery, Preble, and Warren counties. MVCTC is dedicated to providing in-demand workforce training for youth, adults, and organizations in the Miami Valley.
# # #