HOSA Junior Chapter November Meeting
11/18/2021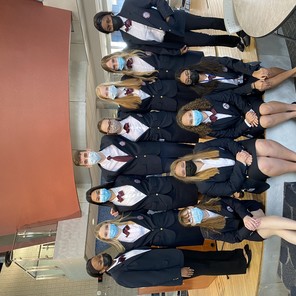 Englewood, Ohio – The Miami Valley Career Technology Center (MVCTC) HOSA-Future Health Professional Junior Chapter held its second meeting of the year. In attendance were members from multiple programs, including Pre-Nursing, Health Occupations, Sports Medicine, Biotechnology, and Medical Lab Assisting.
To kick off the meeting, officers brought a jar full of candy pieces and challenged a representative from each lab to guess the number of candy pieces in the jar. Once HOSA members arrived, and each lab had participated in the candy jar challenge, President RJ Grill called the meeting to order. Then, Madame Vice President Lehua Hoops called the assembly to rise and led them in reciting the HOSA Creed. After this recitation, Madame Secretary Jade Johnson invited a member of each lab to the stage for the roll call of members.
Following beginning procedures, the officers began the educational component of the meeting. Because MVCTC will have a blood drive on November 23, the HOSA meeting focused on blood donation. To start with, several of the officers gave a presentation on blood donations and blood drives. The presentation included information about what blood is made of, expectations when giving blood, and a video testimonial about the value of blood donation.
After the presentation, a representative from each lab joined a Kahoot game to test the lab's knowledge on the topics covered. While all labs did well, Pre-Nursing B was the winning lab during the Kahoot game.
President RJ Grill then adjourned the meeting. This was the first meeting conducted by the new officer team. The meeting successfully provided education on an important aspect of health care and allowed collaboration and relationship-building between HOSA members.
HOSA is a global student-led organization recognized by the U.S. Department of Education and the Department of Health and Human Services and several federal and state agencies. HOSA's mission is to empower HOSA-Future Health Professionals to become leaders in the global health community, through education, collaboration, and experience. HOSA actively promotes career opportunities in the health industry and to enhance the delivery of quality health care to all people. HOSA's goal is to encourage all health science instructors and students to affiliate and be actively involved in the HSE-HOSA Partnership.
For more information about the Miami Valley Career Technology Center, visit our website www.mvctc.com.
For 50-years, MVCTC has provided career technical education for 27 partner school districts encompassing five counties, including Darke, Miami, Montgomery, Preble, and Warren counties. MVCTC is dedicated to providing in-demand workforce training for youth, adults, and organizations in the Miami Valley.