Arcanum MVCTC FFA Welcomes New Members
12/09/2021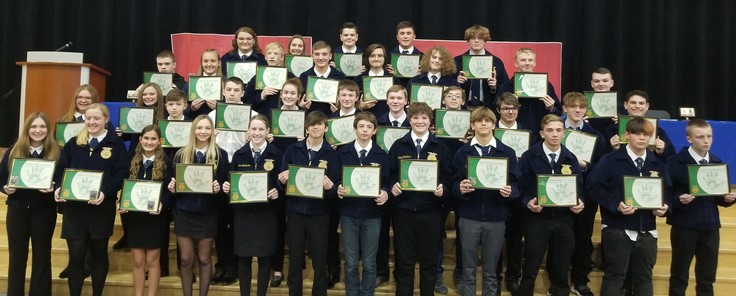 On November 16th, the Arcanum MVCTC FFA Chapter welcomed its new members during the Greenhand Degree Ceremonies. The Ceremony was held during the regular November meeting. The Ceremony was highlighted by Chapter President Landon Haney and Chapter Advisor Mr. Pohlman, presenting recipients with the Bronze Greenhand FFA Degrees. In addition, Greenhand Degree recipient Mora Menzie presented the FFA Creed.

To be eligible to receive the Greenhand FFA Degree from the chapter, a member must meet the following minimum qualifications: Be enrolled in agricultural education and have satisfactory plans for a supervised agricultural experience program. Learn and explain the FFA Creed, motto, salute, and FFA Mission Statement. Describe and explain the meaning of the FFA emblem and colors. Demonstrate a knowledge of the FFA Code of Ethics and the proper use of the FFA jacket. Demonstrate a knowledge of the history of the organization, the chapter constitution and bylaws and the chapter Program of Activities. Personally own or have access to the Official FFA Manual and the FFA Student Handbook. Finally, they must submit a written application for the Greenhand Degree.
The Arcanum MVCTC FFA Officer Team would like to congratulate the new members and wish them well in their FFA Careers.


Members present to receive their degree were: (Front L to R) Payten Parks, Mackenzie Bryne, Mora Menzie, Marli Morris, Brooke Anderson, Travis Landis, Dillan Collins, RJ Brothers, Landon Wagener, Nathan Wright, Brayden Metzger, Logan Nihizer-Phipps, (2nd Row L to R) Carrie Denlinger, Suhmer Doolin, Noah Warren, Landon Miller, Alexis Gibbons, Eli Stephens, Alex Wooten, Travis Harrison, Dustin Williams, Jayden Clapp, Garrett Rose, Carson Short, (3rd Row L to R) Aiden McCombs, Katelynne Michael, Will Wenning, Austin Oliver, William Arnett, Austin Carlisle, Ty Stapleton, (Back Row L to R) Rhianna Denniston, Morgan Weaver, Truman Knaus, Caden Thompson, and Wyatt Wilson.