MVCTC Senior Gage Fuller, Recognized by Northmont Rotary
12/14/2021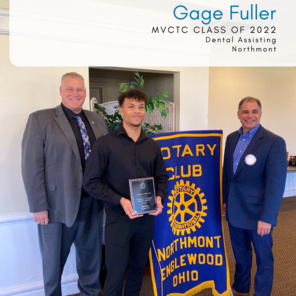 Englewood, Ohio – Miami Valley Career Technology Center (MVCTC) senior Gage Fuller was recognized as the Student of the Month at the December 14, 2021, Northmont Rotary meeting. Gage is a senior from Northmont in the MVCTC Dental Assisting program and is the son of Quentin Fuller and Nicole Buckner.
MVCTC Superintendent, Dr. Nick Weldy, presented Gage with a plaque at the lunch meeting. Gage spoke with the Rotary about his experiences at MVCTC, his current job working for Englewood Dentist Dr. Kim Luna. After graduation, Gage plans to attend Sinclair College using his Tech Prep Scholarship earned at MVCTC and become a Registered Dental Hygienist.
Gage was nominated for this award by his Career Technical Instructor, Abigail Hartman. Mrs. Hartman stated, "Gage is constantly positive, friendly, and ready to learn EVERY DAY. He approached me within weeks of the start of school, wanting to figure out how he could gain employment in a dental office. On his own, he secured employment with Dr. Kim Luna at her practice here in Englewood. I consider myself, as his instructor, lucky to have him in class! He has made many friends, and the students enjoy him."
For more information about the Miami Valley Career Technology Center Dental Assisting Program, visit MVCTC.com/DA.
For 50-years, MVCTC has provided career technical education for 27 partner school districts encompassing five counties, including Darke, Miami, Montgomery, Preble, and Warren counties. MVCTC is dedicated to providing in-demand workforce training for youth, adults, and organizations in the Miami Valley.
# # #
Photo – Dr. Nick Weldy (MVCTC Superintendent) presented the Northmont Rotary Student of the Month Award for December 2021 to Gage Fuller. Pictured left to right are Dr. Nick Weldy, Gage Fuller, Northmont Superintendent Mr. Tony Thomas.