Important Information Regarding Remote Learning January 18-21, 2022
01/13/2022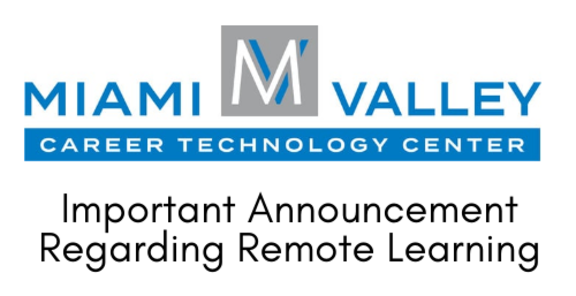 As I am sure you are aware, school districts in our region have had extreme difficulties finding substitute teachers, bus drivers, and other support staff. MVCTC has been fortunate that we have been able to fill vacancies. We are reaching a point where too many staff members are absent on a daily basis for us to currently offer in-person learning opportunities in a safe and productive manner. The district expects to be able to cover staff vacancies for tomorrow, Friday, January 14. We may need to notify students, parents and staff if that is not possible. If we are unable to be in session, notification will be sent through the district's SchoolMessenger phone notification system, posted on the district website, and sent to local media outlets.
In addition, please plan for MVCTC to move to remote learning starting Tuesday, January 18. With this in mind, students should leave school today with their laptop and any other materials so that they can work remotely. We anticipate continuing on remote learning through Friday, January 21. MVCTC will be closed on Monday, January 17 for Martin Luther King, Jr. Day. During the remote learning period, students will not report to the MVCTC campus but will be expected to complete remote learning assignments for each of their classes and career-technical lab. All field trips and extracurricular activities through MVCTC have been canceled.
Students will return to campus on Monday, January 24.
Please note that our temporary move to remote learning is due to staff and substitute absences related to COVID-19 and other illnesses or childcare needs in their families and not student absences. For example, our student attendance rate is 86.45% for today, 86.19% yesterday, and 87.28% on Tuesday. We simply do not have enough staff or substitute instructors to continue operating in a face-to-face format until students return on Monday, January 24.
Students will receive the first set of remote assignments from their instructor no later than Tuesday, January 18 at 1 p.m. Staff will continue to add additional assignments and learning resources throughout next week. Assignments will not be sent on Monday, January 17, since MVCTC was already scheduled not to be in session due to the holiday. Students will have two weeks from the date each assignment is provided to submit all remote learning assignments. Assignments are due by 2:30 p.m. on the last day of the two weeks. In addition to being graded, it is important to note that assignments will also count as a student's attendance. If they do not submit an assignment for a class on a certain day, it will be counted as an unexcused absence. Each student needs to submit ALL assignments in order to receive credit for full attendance while MVCTC offers remote learning. Each day, MVCTC's available staff will still be on MVCTC's campus and available by email and/or Zoom to help students with assignments, answer questions or provide other instructional support.
The information contained in this letter will be posted on MVCTC's website and can be accessed on the main webpage by clicking the "Important Parent Information" link at the top. It will also be sent to each student's MVCTC email address.
If your child has any questions, please ask them to contact the appropriate instructor for their class or career-technical lab. All other questions can be sent to QUESTIONS@MVCTC.COM.
If you or someone else that you know are interested in becoming a substitute teacher, bus driver or support staff member at MVCTC, please go to our employment page using the link below to complete an application:
http://www.mvctc.com/employment/mvctc-job-postings
Thank you for your understanding and cooperation as we continue to navigate the pandemic and the challenges it presents for all of us.
Dr. Nick Weldy
MVCTC Superintendent