Fuller and Riggs Crowned 2022 Prom King & Queen
04/11/2022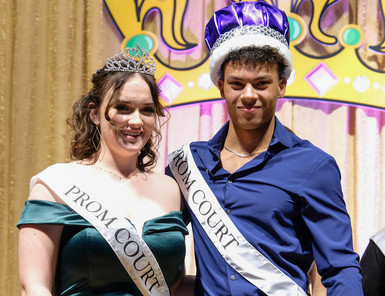 Englewood, Ohio -- The Miami Valley Career Technology Center (MVCTC) 2022 Prom, "Midnight Masquerade" was Saturday, April 9, 2022, in the new Multi-Purpose Activity Center. The MVCTC Prom Court included a male and female candidate nominated by each of the MVCTC Career Technical Student Organizations (CTSO).
The 2022 Prom Court:
BPA Candidates
Hailey Howard (Sports Management & Marketing/Troy Christian)
Lane Kerby (Sports Management & Marketing/Tri-County North)
FCCLA Candidates
Rosemary Schmalhofer (Early Childhood Education/Northmont)
Jonathan Spencer (Early Childhood Education/Milton-Union)
FFA Candidates
Cheyanne Mitchell (Ag & Livestock Production/Twin Valley South)
Max Maher (Veterinary Science/New Lebanon)
HOSA Candidates
Dakota King (Pre-Nursing/Miamisburg)
Skills I Candidates
Jaelynn Stanaford (Cosmetology/National Trail)
Gage Fuller (Dental Assisting/Northmont)
Skills II Candidates
Savannah Campbell (Graphic Commercial Photography/Miamisburg)
Robert Cisneros (Graphic Commercial Photography/Bethel)
Skills III Candidates
Hanna Riggs (Criminal Justice/Preble Shawnee)
Jonathan Knudsen (Robotics & Automation/Northmont)
The MVCTC 2022 Prom King and Queen were announced on Saturday, April 9, Hannah Riggs (SkillsUSA Chapter III from Criminal Justice program) and Gage Fuller (SkillsUSA Chapter 1 from Dental Assisting).
For more information about the Miami Valley Career Technology Center, visit our website www.mvctc.com.
For 50-years, MVCTC has provided career technical education for 27 partner school districts encompassing five counties, including Darke, Miami, Montgomery, Preble, and Warren counties. MVCTC is dedicated to providing in-demand workforce training for youth, adults, and organizations in the Miami Valley.
# # #