Natural Resource Management Students compete in the State Envirothon June 6-7, 2022, at Lake Erie College
06/07/2022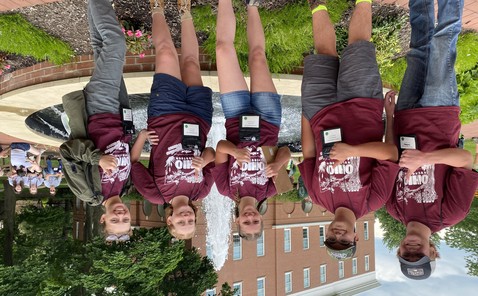 Miami Valley Career Technology Center Natural Resource Management Students compete in the State Envirothon June 6-7, 2022, at Lake Erie College.
MVCTC recent graduates and seniors compete
Katherine Granato (Class of 2022/Milton-Union), Emalee Haemmerle (Class of 2022/Preble Shawnee), Thomas Herzog (Class of 2023/Troy), Anja Hubers (Class of 2022/Miamisburg), and Mitchel McFall (Class of 2023/Northmont) along with Natural Resource Management instructor Joe Beringer attended the State Envirothon. The MVCTC Team toured Holden Arboretum and spent one-night camping at Geneva State Park. On Monday morning the competition was held at Lake Erie College. Student had the opportunity to stay in the dorms at Lake Erie College, and Tuesday afternoon the contest concluded with final team presentations.
What is the Envirothon?
According to the Ohio Federation of Soil and Water Conservation Districts, "The ENVIROTHON is a high school competition designed to stimulate, reinforce and enhance interest the environment and natural resources. Students are tested on their knowledge of soils, forestry, wildlife, aquatic ecology and current environmental issues. In addition, the Envirothon encourages cooperative decision-making and team building. While each student on a team is challenged individually to contribute his or her personal best, the score that counts at the end of the competition is the team score. A team consists of five students, all from the same high school. An adult advisor (or advisors) must accompany the team, but is not permitted to assist the team during the competition.
High School students across the state compete on the local level at one of the five Area Envirothons. The top four teams from each Area Envirothon then go on to compete at the state competition held each year in June for the title of State Envirothon Champion. The winning team will then compete at the national competition, the NCF Envirothon, held annually in July in a different state in North America.
Natural Resource Program Prepares Next Generation of Environmental Workers
The very diverse and unique MVCTC Natural Resource Management program uses classroom, laboratory, and outside fieldwork experiences to prepare students for employment and advancement in the environmental engineering and natural resource management fields. Students develop skills working on our campus 50-acre land lab, stocked pond, 2-acre wetland, and aquaculture production facility. In addition, students will study fisheries and wildlife management, equipment operation, and habitat restoration.
Students are given many opportunities to visit parks and universities across the state of Ohio to better understand this vast and essential field of study.
For more information about the Miami Valley Career Technology Center, visit our website www.mvctc.com.
For 50-years, MVCTC has provided career technical education for 27 partner school districts encompassing five counties, including Darke, Miami, Montgomery, Preble, and Warren counties. MVCTC is dedicated to providing in-demand workforce training for youth, adults, and organizations in the Miami Valley.
# # #
Photo – Pictured left to right is the MVCTC State Envirothon Team – Thomas Herzog (Troy), Mitchell McFall (Northmont), Katherine Garnato (Milton-Union), Anja Hubers (Miamisburg),l and Emalee Haemmerle (Preble Shawnee).