WPAFB Article - 20-year-old carpenter lives best life in 88th Civil Engineering
03/16/2023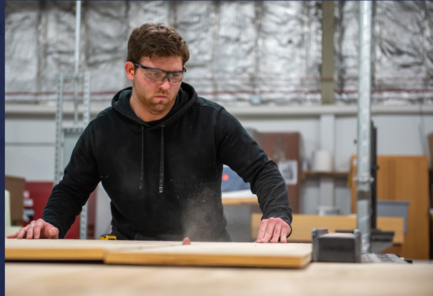 https://www.wpafb.af.mil/News/Article-Display/Article/3319670/20-year-old-carpenter-lives-best-life-in-88th-civil-engineering/
WRIGHT-PATTERSON AIR FORCE BASE, Ohio – What were you doing at 20 years old? Going to college? Trying to make ends meet? Still living with your parents? Most people at that age would probably answer "yes" to one of those questions, but not Jake Fletcher.
"This job has me set for the rest of my life," Fletcher said. "I bought my first house. I'm engaged to get married in 2024. You don't have to go to college to get a good job. You just need to be willing to work, show up and be an adult."
Fletcher is a carpenter in the 88th Civil Engineer Squadron and has worked at Wright-Patterson for nearly four years. He began his career as a 17-year-old apprentice while attending Miami Valley Career Technology Center's construction carpentry program.
"I never used a saw until I got to MVCTC," Fletcher said. "But the first time I did, I realized I wanted to be a carpenter."
After his junior year at MVCTC, Fletcher applied to work at Wright-Patterson for an apprenticeship. The combination of good grades and an outstanding interview got him the position.
His senior year was then split into two-week intervals between MVCTC and working on base. Fletcher's work ethic impressed the carpenter team at 88 CE and led to a full-time position after graduation.
"He jumped right in and started learning the job from the experienced employees in the office," said Fletcher's supervisor Paul McMillin, 88 CE structures foreman. "He's got a good attitude and is willing to do whatever tasks we ask him to do."
The task on this day was to build a storage cabinet for a customer on base.
"My favorite part of the job is working in the woodshop," Fletcher said with a smile. "I like building things, and it's calming."
He starts by precisely measuring how big to build the box. He then uses a table saw to cut plywood to match his schematics. His final work is followed by nailing, gluing and screwing the pieces together.
"I don't think it's coming apart," he said, laughing.
Along with woodworking, Fletcher's daily jobs include replacing ceiling tiles, hanging drywall and repairing roof leaks.
"I come to work loving my job, and I can't be much happier than I am right now," he said.
And now he's spreading that message to current MVCTC students. Fletcher visits his alma mater and informs students about his job on base and how much fun it is. The 88th Civil Engineer Group has hired several recent MVCTC apprentices and plans to continue that local partnership.
"The average age of our current workforce in the 88th Civil Engineer Group is around 54 or 55," said Scott Vincent, 88 CEG director. "Our job as leadership is to grow our replacements and keep the workforce young and revigorated."
Vincent said recruiting recent graduates to work on base is hard because they can't offer as much money as the civilian sector, but there are advantages if you value a good work-life balance.
"Initially, they may not be making quite as much money, but they're not working 70 to 80 hours a week. The government also offers better insurance, vacation and benefits."
Fletcher confirms the selling points.
"Between the great co-workers, benefits and health insurance, this is the best job you can have."