Germain Ford Donates Mustang to MVCTC Auto Technology Program
10/24/2023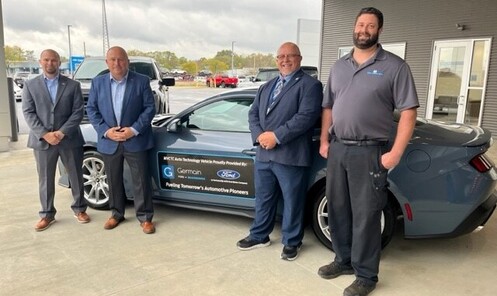 Beavercreek, Ohio – The Miami Valley Career Technology Center (MVCTC) was selected to receive the donation of a 2024 Ford Mustang GT from the Ford Automotive Career Exploration (ACE) program sponsored by Germaine Ford of Beavercreek, OH.
The Ford ACE program is a dealer-sponsored program intended to raise awareness and increase interest in career opportunities within the automotive industry, ultimately as a service technician at a Ford or Lincoln Dealership. ACE is a partnership program between Ford Motor Company, Ford/Lincoln dealerships, and secondary and post-secondary educational institutions. ACE programs have been established in schools across all 50 states, yet program availability is dependent on a Ford or Lincoln dealer sponsorship.
MVCTC currently has students working at Beau Townsend and Dave Knapp Ford.
A special thank you to Andy Chrzanowski (Ford ACE Representative), John Martin (General Manager, Germain Ford Beavercreek), and Joe Simmons, MVCTC Automotive Instructor.
Dedicated to providing premier educational choices and advanced employment preparation for youth, adults, and organizations, MVCTC has proudly served the Miami Valley since 1971.
For more information about MVCTC, please visit www.mvctc.com.
# # #
Pictured L-R Andy Chrzanowski, John Martin, Blaine Heeter, Joe Simmons.