6800 Hoke Road, Englewood, OH 45315
(937) 837-7781 | www.mvctc.com
Veterinary Science
Program Information Sheet
Description
Hands-on learning in a clinical setting with two instructors - one of which is a practicing Doctor of Veterinary Medicine
Study in a high-level, science-based classroom; conduct dissection labs for comparative Anatomy and Physiology and Hematology, Parasitology, and Urinalysis Practicums
Actively participate in Career Development Events at FFA State Level
Earn Level 1 Wildlife Rehabilitation Certification from collaboration with Brukner Nature Center
Work-Based Learning Opportunity - Educational trips to equine facilities to learn practical skills and techniques.
Contact Instructor
Curriculum Plan Career Tech courses you will be taking along with college credits and certifications available.
Suggested Skills For Success
Certifications Opportunity to earn the following certifications in this program.
Brukner Nature Center Level 1 Wildlife Rehabilitation Certification
College Connections
Additional Links
Where are they now?
Ohio Means Jobs Related Occupations Search
Occupation

Description

Diagnose, treat, or research diseases and injuries of animals. Includes veterinarians who conduct research and development, inspect livestock, or care for pets and companion animals.

Average Annual Salary

$104,470

Education

Doctoral

Occupation

Description

Perform medical tests in a laboratory environment for use in the treatment and diagnosis of diseases in animals. Prepare vaccines and serums for prevention of diseases. Prepare tissue samples, take blood samples, and execute laboratory tests, such as urinalysis and blood counts. Clean and sterilize instruments and materials and maintain equipment and machines. May assist a veterinarian during surgery.

Average Annual Salary

$37,330

Education

Associate's Degree

Occupation

Description

Feed, water, and examine pets and other nonfarm animals for signs of illness, disease, or injury in laboratories and animal hospitals and clinics. Clean and disinfect cages and work areas, and sterilize laboratory and surgical equipment. May provide routine post-operative care, administer medication orally or topically, or prepare samples for laboratory examination under the supervision of veterinary or laboratory animal technologists or technicians, veterinarians, or scientists.

Average Annual Salary

$29,850

Education

High school diploma or equivalent
Testimonials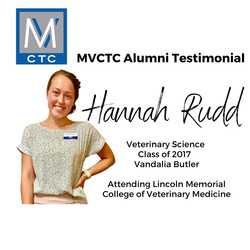 "Attending MVCTC solidified my future educational and career plans. My lab allowed me large amounts of hands on experience, and the opportunity to gain knowledge and skills I still use to this day! Veterinary Medicine can be a challenging field, but CTC taught me resilience, leadership, and how to push myself to both become and do better. Without CTC I would not be where I am at today, as it gave me a leg up in the veterinary field, and paved the way for many experiences I would not have had the opportunity to do otherwise. I adored my time at MVCTC, and have even created life-long friendships from my time there. MVCTC has allowed me to continually be successful in reaching my goals. I will graduate in 2025 with my DVM, and I could not be more excited!"

Hannah Rudd
Vandalia-Butler
I graduated with my Bachelors of Science in Agriculture from The Ohio State University in the spring of 2021. I am currently a first year at Lincoln Memorial University College of Veterinary Medicine!