6800 Hoke Road, Englewood, OH 45315
(937) 837-7781 | www.mvctc.com
Dental Assisting
Program Information Sheet
Description
Learn to be an assistant to a general dentist or a dental specialist
Learn instruments & dental materials
Fabricate dental models, bleaching trays, mouth guards, etc.
Work-Based Learning Opportunity - Advanced Placement
Program Instructor - Mrs. Abigail Hartman
MVCTC Dental Assisting Alumnus Alina Brown
Contact Instructor
Curriculum Plan Career Tech courses you will be taking along with college credits and certifications available.
Suggested Skills For Success
Certifications Opportunity to earn the following certifications in this program.
Ohio Dental Radiology License

Ohio Department of Education (ODE) Approved Industry-Recognized Credential Opportunity.

CPR First Aid

Ohio Department of Education (ODE) Approved Industry-Recognized Credential Opportunity.
College Connections
Additional Links
Where are they now?
Ohio Means Jobs Related Occupations Search
Occupation

Description

Assist dentist, set up equipment, prepare patient for treatment, and keep records.

Average Annual Salary

$40,390

Education

Postsecondary non-degree award

InDemand
Bright Outlook
Apprenticeships

Occupation

Description

Administer oral hygiene care to patients. Assess patient oral hygiene problems or needs and maintain health records. Advise patients on oral health maintenance and disease prevention. May provide advanced care such as providing fluoride treatment or administering topical anesthesia.

Average Annual Salary

$69,360

Education

Associate's Degree

Occupation

Description

Examine, diagnose, and treat diseases, injuries, and malformations of teeth and gums. May treat diseases of nerve, pulp, and other dental tissues affecting oral hygiene and retention of teeth. May fit dental appliances or provide preventive care.

Average Annual Salary

$182,060

Education

Doctoral
Testimonials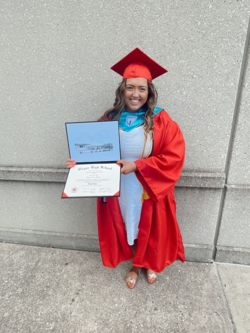 "MVCTC helped me be successful by allowing me to obtain my radiology license and learn all the proper skills to become the best assistant for a dentist. The school also helped me connect with local dentists and practices that gave me great advice for working in the dental field. MVCTC has also helped me by giving me the confidence to work in my career!"

Jalynn Brown
Huber Heights
Full-time student at Campbellsville University in Kentucky. She is pursuing a bachelor's degree in biology and will continue her education to become a dentist.